Sometimes a mom can have it all wrong and her son might be strangely right after all. In a twist of fate, I have come to learn this lesson all too well.
As a former card-carrying member of the Helicopter Parents Association, I always thought that I knew more than my kids. I hate to admit it, but I may not have always listened to or recognized when my kids were on to something "mom" may have thought was on the bizarre side. Some of their ideas over the years, I might say, have been a bit head-scratching. However, this time, sadly for many recent reasons, my son's clever thinking might not have been so crazy after all.
Back in December, before anyone knew what Coronavirus was and just how wide-reaching its effects would be, my college-aged son handed me a uniquely strange list of bizarre Christmas gifts that he thought were the greatest gifts that any parent could possibly give to their kids who attended out-of-town schools. I, upon reading the paper presented to me, thought his ideal gift list was quite absurd, to say the least. It turns out that in hindsight, my son might just be a genius (but don't tell him I said so) and way ahead of the times.
His list started out with "Costco sized toilet paper enough to last him the end of next semester, cleaning supplies, and other assorted HBA hygienic items". I remember sitting there dumbfounded afraid to read on and began to seriously question his thought process. "Toilet paper! You honestly want me to buy you toilet paper?", I started to look around to see if I was on a new hidden camera show about to be pranked.
The thing was, he was absolutely serious about toilet paper being a great gift and then proceeded to give me a few well thought out reasons as to why. One of them being that he would never have to worry about running out. Followed by, he could use the weekly allowance I gave him for more important things like going out with friends. I told him way back then that toilet paper wasn't a prized gift that would be flying off the shelves and that he could just purchase it anytime and anywhere. Oh, the irony — just how wrong I was and just how right he was. Trust me, I'm hearing it on a daily basis now that society has been caught up in the great "Toilet Paper Apocolypse of 2020".
Yes, my son, it does appear that toilet paper has become the most prized and ultimate gift of 2020 and I will humbly admit that you were right after all and mom was wrong.
P.S. I did end up buying him 2 big Costco industrial-sized packages of toilet paper for Christmas, adorned with sparkly bows. As for my son, it seems, with his college in shut down mode, he will be regifting his mother the greatest gift of all, his prized stash of toilet paper.
Here is a link to the original article that inspired this post.
This Year My College-Aged Son's Gift List Might Just Be THe Most Bizarre One Yet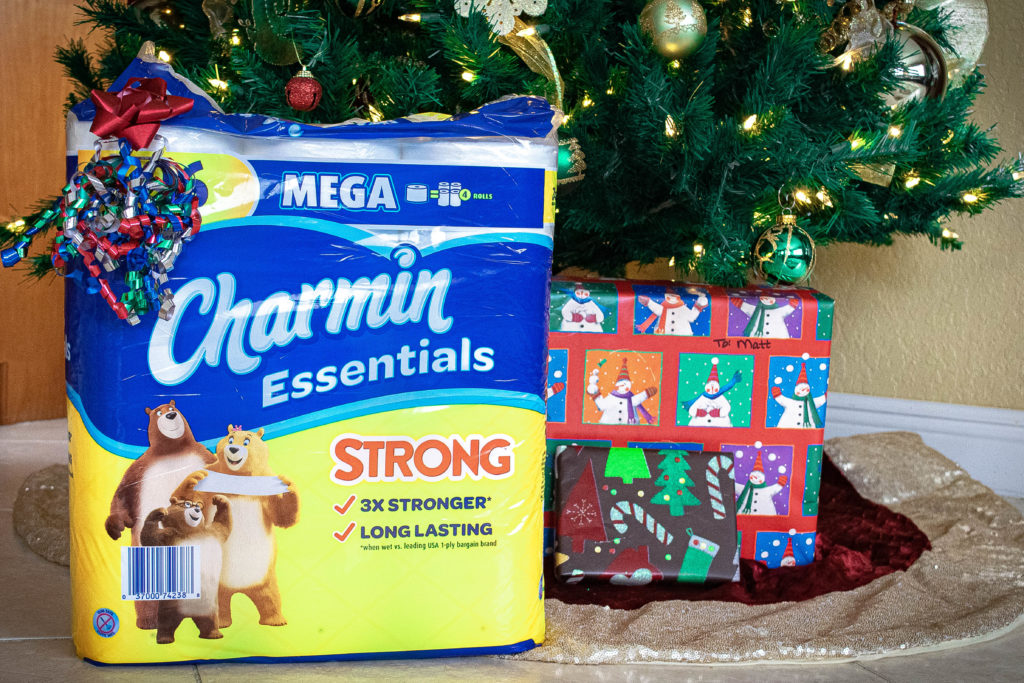 As always, leave us a comment and "Like", "Tweet", "Link", "Pin" or "Share" this with your friends and family.