Words of wisdom are the timeless reminders that connect our souls to one another in this expansive universe of ours.  When wisdom is passed on by powerful influential women, we tend to take extra note.  Nothing is truer than the words spoken by the late former First Lady, Barbara Bush.
The little gems of advice and her unique perspective on life transcends political parties and generations to help us realize what is truly important.  Whether or not one was a personal fan of Mrs. Bush, there is no denying that she was an incredibly strong woman, who valued family and the welfare of others.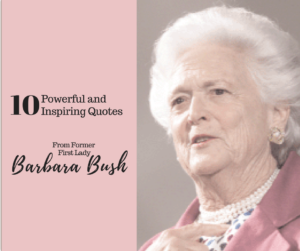 1|  Believe in something larger than yourself… get involved in the big ideas of your time.

2|  At the end of your life, you will never regret not having passed one more test, not winning one more verdict or not closing one more deal. You will regret time not spent with a husband, a friend, a child, or a parent.

3|  Never lose sight of the fact that the most important yardstick of your success will be how you treat other people – your family, friends, and coworkers, and even strangers you meet along the way.

4|  Why be afraid of what people will say? Those who care about you will say, Good luck! and those who care only about themselves will never say anything worth listening to anyway.

5|  And who knows? Somewhere out there in this audience may even be someone who will one day follow my footsteps and preside over the White House as the president's spouse. I wish him well!

6|  If human beings are perceived as potentials rather than problems, as possessing strengths instead of weaknesses, as unlimited rather than dull and unresponsive, then they thrive and grow to their capabilities.

7|  I hate the fact that people think 'compromise' is a dirty word.

8|  Some people give time, some money, some their skills and connections, some literally give their life's blood . . . but everyone has something to give.

9|  You don't just luck into things as much as you would like to think you do. You build step by step, whether it is friendships or opportunities.

10|  The winner of the hoop race will be the first to realize her dream, not society's dream, her own personal dream.
If you enjoyed this list of quotes, please remember to "Like, Share, or Tweet".  Follow Life Traveled In Stilettos on Bloglovin', Facebook, Twitter, Instagram, and Pinterest by clicking on the links below.