Image Credit:  Sunfest
Sunfest, West Palm Beach's annual premiere music festival is once again transforming the beautiful waterfront along Flagler Drive into a mecca for music, art and food enthusiasts of all ages.  Lasting 5 days, with 3 stages and 50 bands and over 100,000 visitors, Sunfest is Florida's largest music, art and waterfront festival.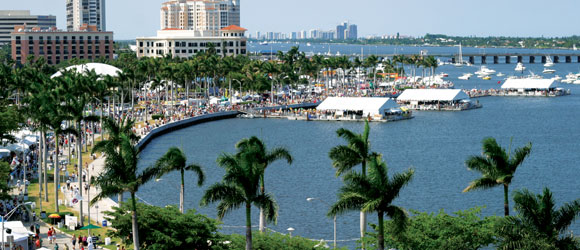 The entire festival runs several city blocks along FlaglerDrive starting at Lakeview Avenue with the Jet Blue Stage and hugs its way north along the Intracostal Waterway finally ending at N. Clematis Street and the Ford Stage.  In between, you will find the fine art and crafts show, activities for children, The Eatery filled with food vendors, Tire Kingdom Stage, places to purchase Sunfest merchandise, the South Florida Ford Experience and more.  Comfortable shoes are a must.
As soon as this year's musical line up was announced, I circled the opening night in my calendar and immediately started counting down the days until the gates opened.  This, my friends, is Christmas for South Florida music lovers.
With the cool breezes gently blowing off the Intracoastal, temps in the mid 70's and a beautiful sunset, you couldn't have ordered a more perfect night to kick off Sunfest 2016.  It was the night I was most looking forward to attending, especially since Duran Duran was one of the headlining acts.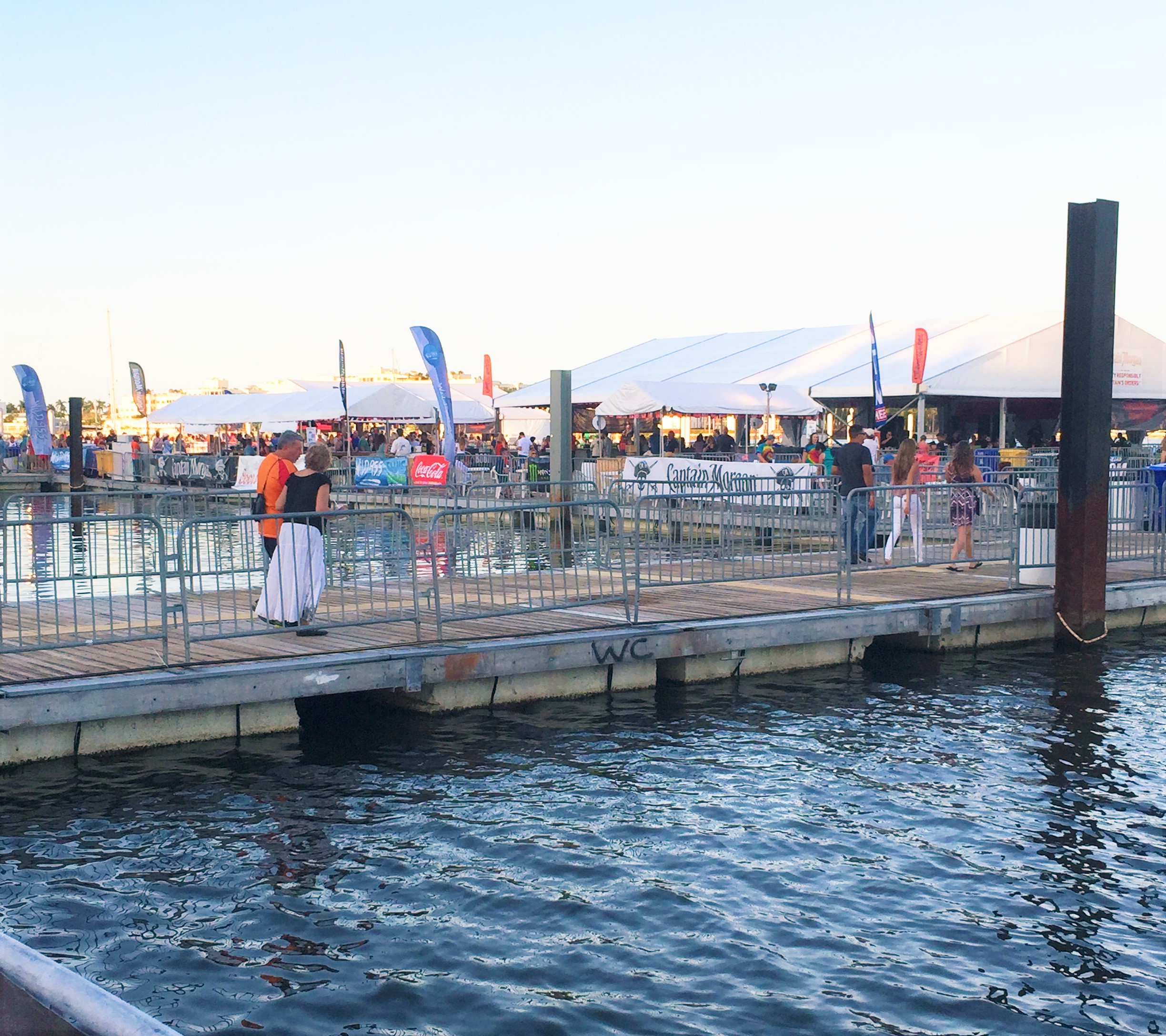 Jeff and I arrived early to take advantage of pre-concert activities.  After getting acclimated with our surroundings, we spotted the Captain Morgan Floating Oasis – three massive floating bars attached to the docks, each complete with a DJ, dance floor and Sunfest party goers.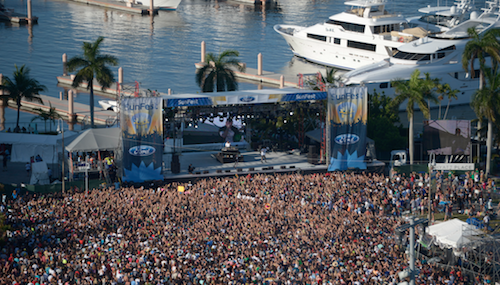 After enjoying a refreshing libation and taking in the views of ritzy Palm Beach to the east and the skyline of West Palm Beach to the west, we decided to make our way to the Ford Stage to see one of the night's opening acts Secret Weapons – an alternative band from Brooklyn, NY.  I have to say they rocked it and had the crowd on its feet.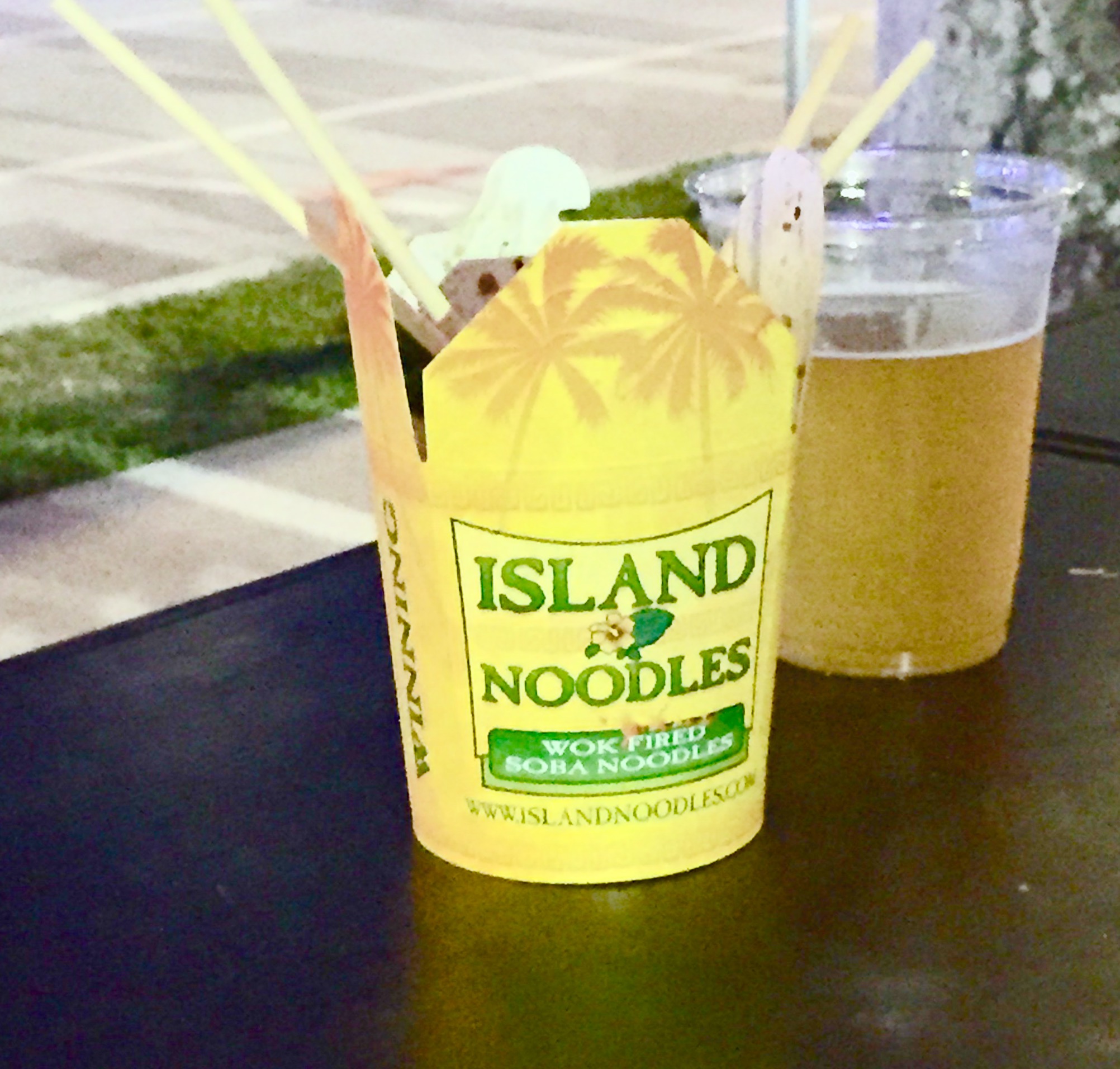 In between sets, we headed over to The Eatery for a quick bite. Trying to decide what to munch on with so many choices is quite a challenge.  After spotting Island Noodles and being lured in by the aroma of sesame oil and watching them cook with fresh ingredients, my wallet was out and my taste buds were anxiously anticipating the yummy goodness.
As we enjoyed our quick bite, we could hear, Meghan Trainor, famous for her "base", performing at the Tire Kingdom Stage (which is next to The Eatery).  Even though I'm not a huge fan of hers, she sounded fantastic.  I would have liked to stay to watch the show, but unfortunately, her performance conflicted with the concert I had my heart set on seeing — Duran Duran.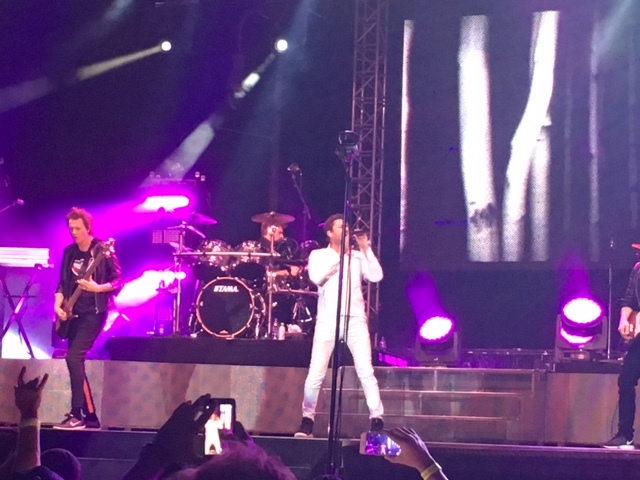 Photo Credit: WPTV
Once the band hit the stage it was non-stop energy with music that had the crowd singing and dancing for the entire 90-minute concert.
With each classic hit played; Hungry Like The Wolf, Bad Boys, Notorious and others, the songs transported me back in time to my younger years.  Throughout the evening, the band effortlessly flowed from one classic hit into a song from their new album.  If you haven't had an opportunity to hear their new music, it is a mix of modern day dance and upbeat funky vibe.  Even fans who came to see them for their old school hits, danced to the beat of their new ones.
One of the show's highlights was Duran Duran's tribute to the late David Bowie.  The band wowed the audience by performing a melody of Bowie's hits and tied them into their song This Is Planet Earth.  Another highlight occurred during their encore, when they stopped to honor the recent death of Prince and flooded the stage in purple lights while dedicating their song Save A Prayer in his honor.  The band ended the night by rocking out their hit song, Rio, and making my trip back in time priceless.
For those who missed the opening night, you don't want to miss the next four jam-packed days of Sunfest:
(Tonight) Thursday, April 28th:  Mike Mineo, Drew Holcomb and The Neighbors, Train, Tori Lynn, LunchMoney Lewis, Jason Derulo
Friday, April 29th: Professor & The Jet Sets, Watch the Duck, Steve Aoki, WD-HAN, The Bright Light Social Hour, Death Cab for Cutie, Casaveda, The Joy Formidable, Bastille
Saturday, April 30th: Trey Libra fka Jacob Izrael, Salt N Pepa, The Roots, Ethan Parker Band, Capital Cities, Fitz and The Tantrums, Matt Calderin Tri  o, The Babys, Rick Springfield, Bobby Lee Rodgers, Butch Trucks & The Freight Train Band, Fireside Prophets, Goldfinger, Flogging Molly, Half Deezy, Devon Baldwin, G-Easy
Sunday, May 1st: Jesse Royal , Slightly Stoopid, Dylan LeBlanc, Shovels & Rope, Alabama Shakes, Sons of Mystro, Scott Bradlee's Postsmodern Jukebox, NO TRAFFIK, Saint Asonia, Evanescence, Judah & The Lion, Andy Grammer, Ria Mae, Coleman Hall, Walk the Moon
For more information about Sunfest 2016, ticket prices and parking, click on: Sunfest.com.