One of the things I enjoy most about traveling to a new destination, is having the opportunity to explore the quieter side of it — mainly its public parks and green spaces.  These little hidden tranquil oases allow a bit of reprise from the constant "go, go, go" of my sightseeing itinerary. Without having ability to enjoy these little breaks, the dizzying pace tends to blur together and sometimes makes it difficult distinguishing between each new museum, shopping zone or monument I visit. The parks and greens spaces become nourishment to my soul and also allow me to soak in the natural beauty a new place; giving me a small taste of the local life.
During my recent visit to Paris, a city steeped in picturesque beauty and home to the some of the world's most charming, elegant and breath taking public parks and green spaces — many which are a works of art themselves — I was more than impressed with the city's green spaces.  A city that is usually known to have its tourists whizzing through a maddening itinerary of visits to monuments, museums and other "must see" points of interest, the parks of Paris give visitors a true balance between nature and historic opulent man-made master pieces.  These unique and masterfully designed jardins (gardens), are the little gems of Paris (many just happen to be steps away from many major attractions) that are often overlooked, but will give you plenty of reasons to stop and smell the proverbial roses.
The parks and gardens that made our list includes the best parks to see when you only have a few days to take in the sights and elegance of Paris.  If your stay is longer than 3-4 days, the city has many other amazing parks to explore outside of the tourist zones.
Jardin du Luxembourg (6th arrondissement)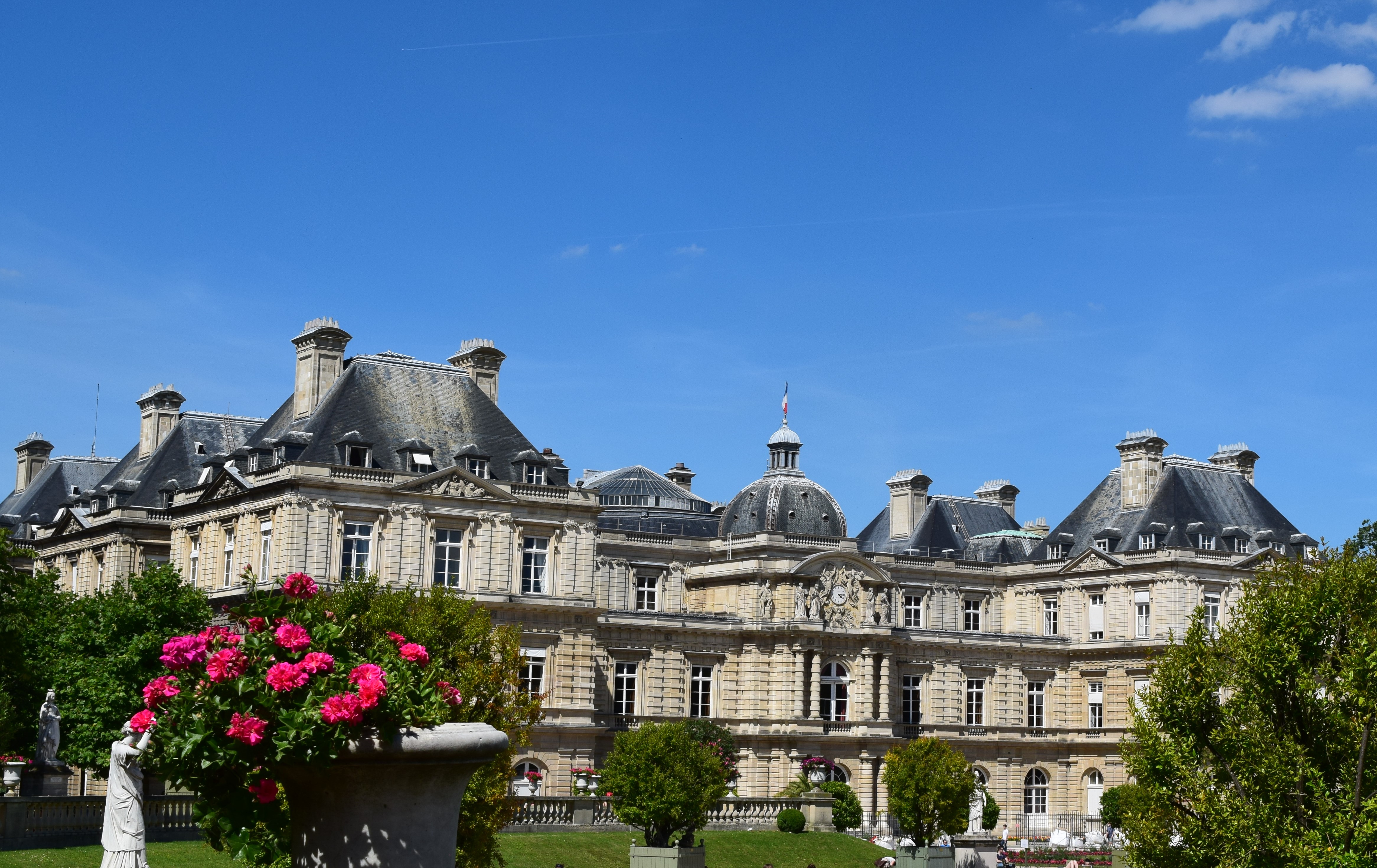 This stately park is a blend of both formal English and French gardens and is home to the Palais du Luxembourg.  Originally built in 1620 as a private mansion, it currently houses the French Senate.  Enjoyed by locals, students and tourists, Jardin du Luxembourg is one of Paris' most popular and  largest public parks.  Walking along the shaded pea gravel paths, visitors will pass by statues, the Fountaine de Medicis, manicured gardens and may even stumble upon the original model for the Statue of Liberty. This family friendly park features playgrounds, puppet shows, pedal carts, pony rides and remote controlled boats.  Visitors can also play a game of tennis or chess.
What's nearby:  Shopping on Blvd. St. Germain, St. Sulpice, La Sorbonne, Musee de Cluny, the Pantheon and the Latin Quarter.
Jardin des Tuileries (1st arrondissement)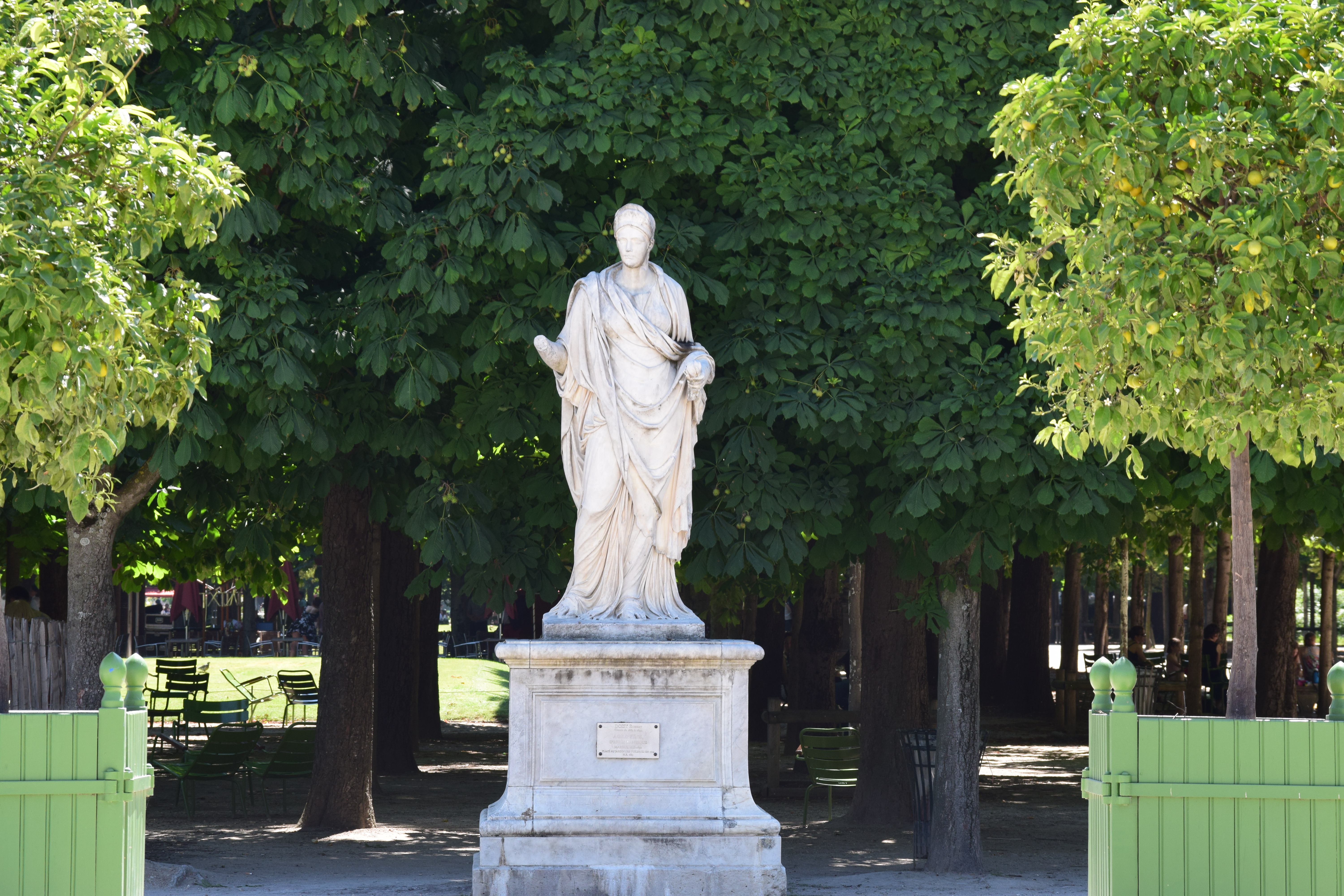 Located on the Right Bank of the city, the Jardin des Tuileries, built in 1640, is one of Paris' oldest public parks. The park was designed in the classic French garden style with terraces, a central vista, circular and hexagon ponds.  Situated between the Louvre and Place de la Concorde, the park is popular with locals and tourists.  With 20 statues and sculptures, the park will make you feel that you are in an outdoor museum.  If time permits, ride the Ferris wheel at the entrance to the Jardin des Tuileries for truly spectacular views of Paris.
What's nearby:  The Louvre, Musee de l'Orangerie, Galerie National du Jeu de Paume, Place de la Concorde.
Jardin des Champs Elysees (8th arrondissement)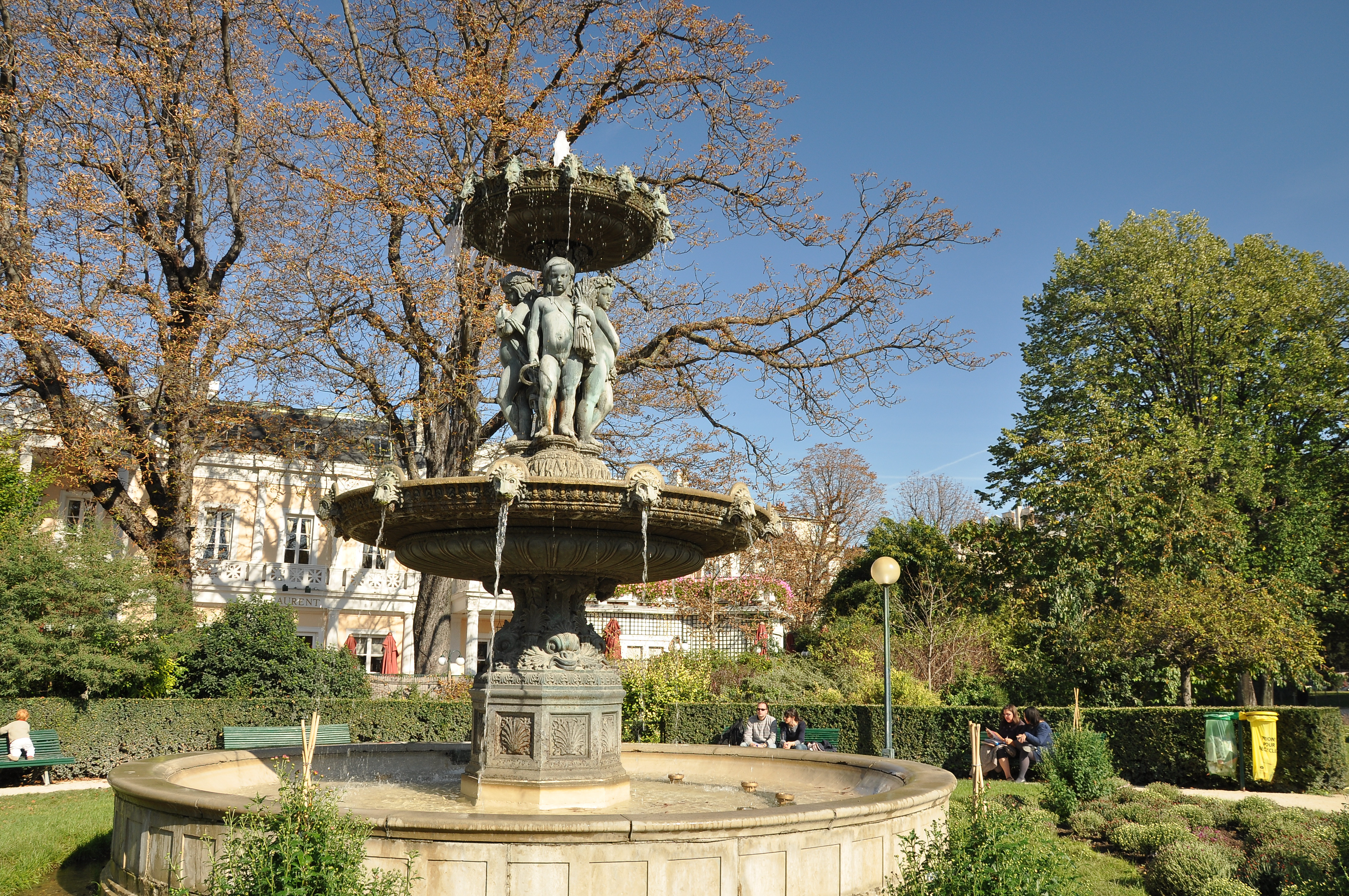 The Jardin des Champs Elysees flanks both sides of the famous Blvd. Champs Elysees.  It starts the opposite side of the Jardin des Tuilieries at Place de la Concorde and continues west along the Champs Elysees to the Rond-Point des Champs-Elysees.  This beautifully designed English garden with crisscrossing paths is a remarkably quiet oasis situated in one of Paris' busiest tourist zones.  It is a haven for local Parisians looking to escape from the hustle and bustle just steps away.  With plenty of places to relax and stroll along the paths, which are dotted with statues, fountains and pavilions, this park is a perfect spot to enjoy before or after your journey along the Blvd. Champs Elysees.
What's nearby:  The Champs Elysees, Grand Palais, Petit Palais, Theatre du Rond-Point, Place de la Concorde.
Parc Monceau (8th arrondissement)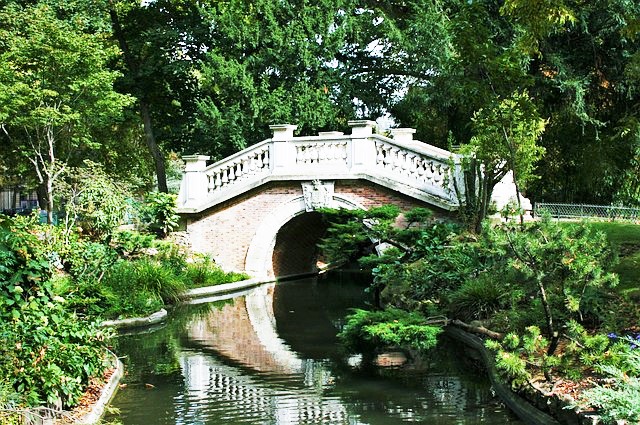 A short 20 minute stroll from the Arc de Triomphe and you will experience Paris' most whimsical and unique parks.  Popular with upscale families, students and couples, this fairy tale park has surprises around every corner.  The four main entrances are marked by elaborate wrought iron gates that welcome visitors and entices them on a magical adventure as they walk along the park's serpentine pathways.  Some unique surprises that you will encounter are: a miniature Egyptian pyramid, Romanesque colonnade, storybook bridge, grotto and a cave.  Families with young children will love the puppet shows, carousel, playground, candy store and vendor selling ice cream, popcorn, sandwiches and snacks.
What's nearby:  Arc de Triomphe, Musee Jacquemart-Andre
Jardin du Trocadero (16th arrondissement)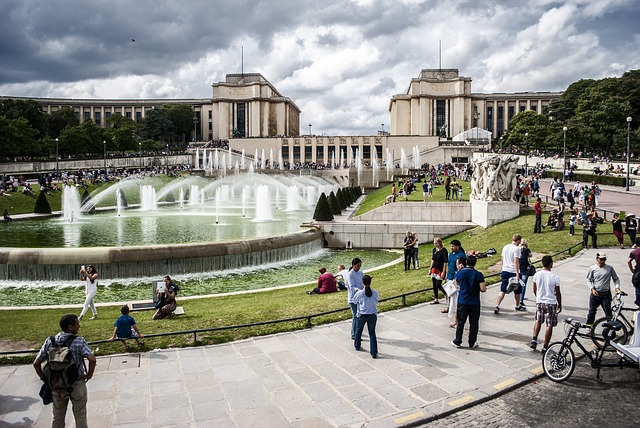 What makes Jardin du Trocadero one of Paris' best parks for tourists is the spectacular views of the Eiffel Tower.  If you're going to take a "selfie" while in Paris' this is the place to do it.  Located directly across the River Seine from the famous Eiffel Tower, Jardin du Trocadero is also known for its spectacular Fountain of Warsaw, a water mirror with 12 fountains, 10 water arches and 24 smaller fountains.  The park is laid out in an English style design and features playgrounds, sandboxes, a carousel and concession stands that will delight visiting families.  The CineAqua, Paris' aquarium is also located here.
What's nearby:  The Eiffel Tower, Paris CineAqua Aquarium, Palais de Chaillot, Palais de Tokyo, Musee d'Art Moderne
Parc du Champ de Mars (7th arrondissement)
This park is home to the Eiffel Tower and attracts locals and visitors of all ages to its lush green esplanade for picnics.  This park is the perfect place to gaze at the beauty of Paris' most famous landmark.  Interesting fact: Parc du Champ de Mars is named for the Greek God of War – Mars, and was once used as the marching grounds for the French military.
What's nearby:  The Eiffel Tower, Musee du Quai Branly
Square du Vert-Galant (Ile de la Cite)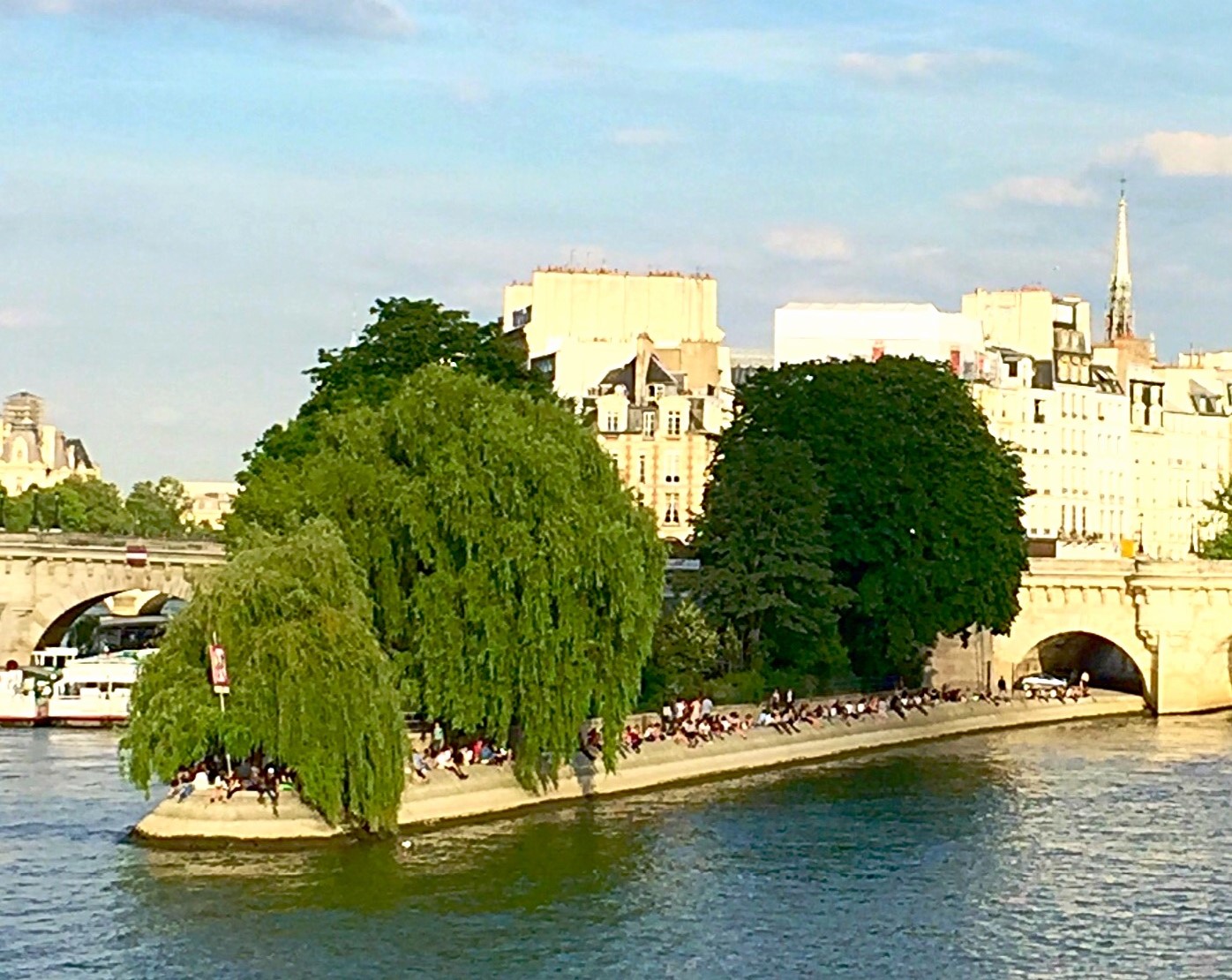 If you blink, you might just walk past this park and miss this tiny little gem located at the tip of Ile de la Cite.  Square du Vert-Galant is popular with local Parisians who are looking to relax with friends and/or to enjoy a sunset picnic and bottle of wine.  Although this tiny park does not have many amenities, it does offer rare views of Paris and a spot to watch the boats cruise up and down the River Seine.  If you're planning to take a river cruise, this park is located where River Seine boat tours depart.
What's nearby: Pont Neuf, Cathedral Notre Dame, the Louvre, Place St-Michele
 Square Jean XXIII (4th arrondissement – Ile de la Cite)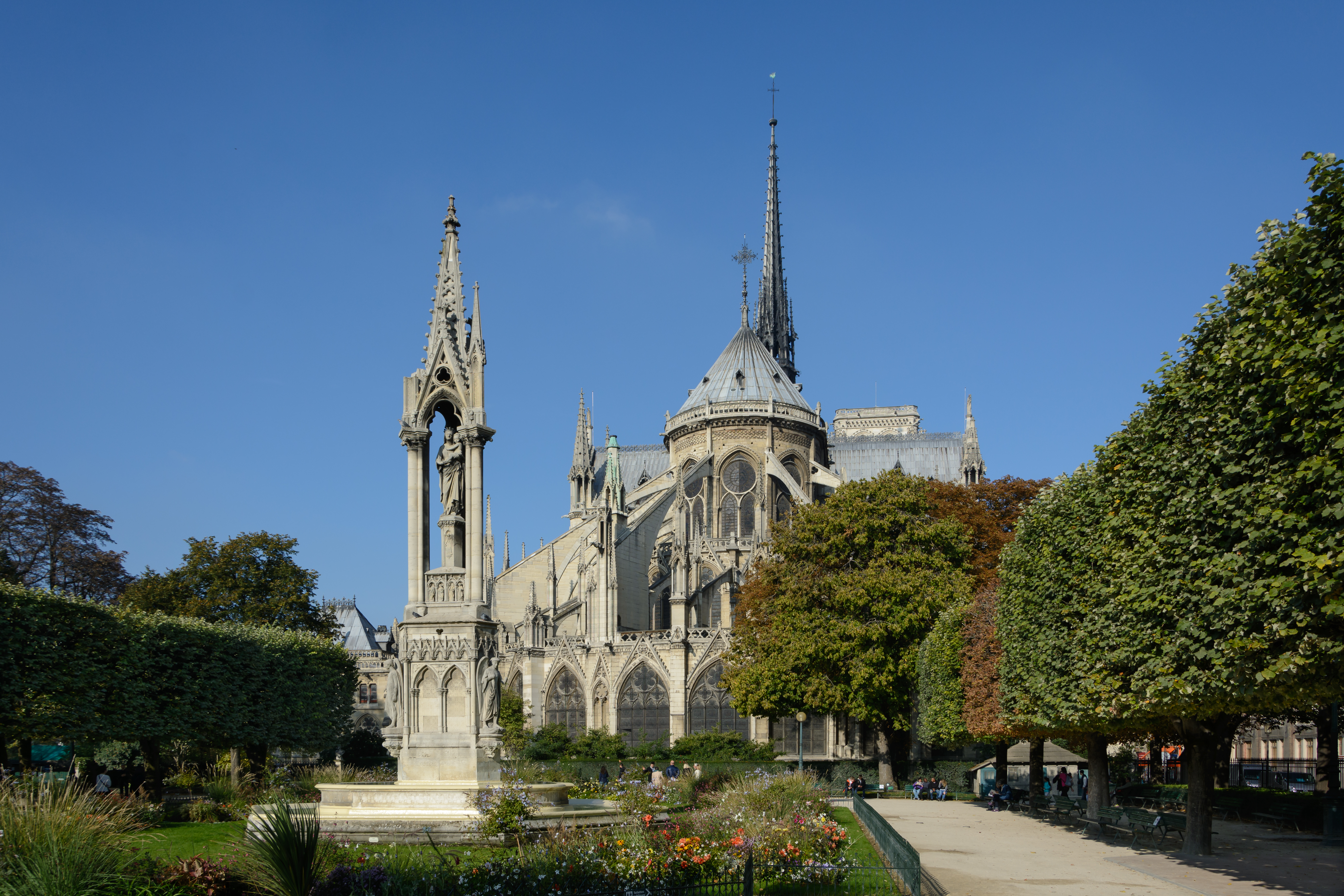 A romantic and hidden gem, this quiet park tucked behind the famous Cathedral Notre Dame boasts impressive views of the River Seine.  Square Jean XXIII is the perfect place to escape the hordes of tourists just on the other side of the building waiting to enter the historic church.  A short walk to the back of the Cathedral Notre Dame and your senses come alive from the fragrant apple, cherry and chestnut trees.  Beneath the lush canopy of trees, relax on park benches and take in the beauty of the rose gardens, statue and fountain.  There is also a bandstand that occasionally features musical acts.
What's nearby:  Cathedral Notre Dame, Place St-Michele, the Latin Quarter
Read more 12 Romantic Things To Do and See in Paris 
Jardin des Plantes (5th arrondissement)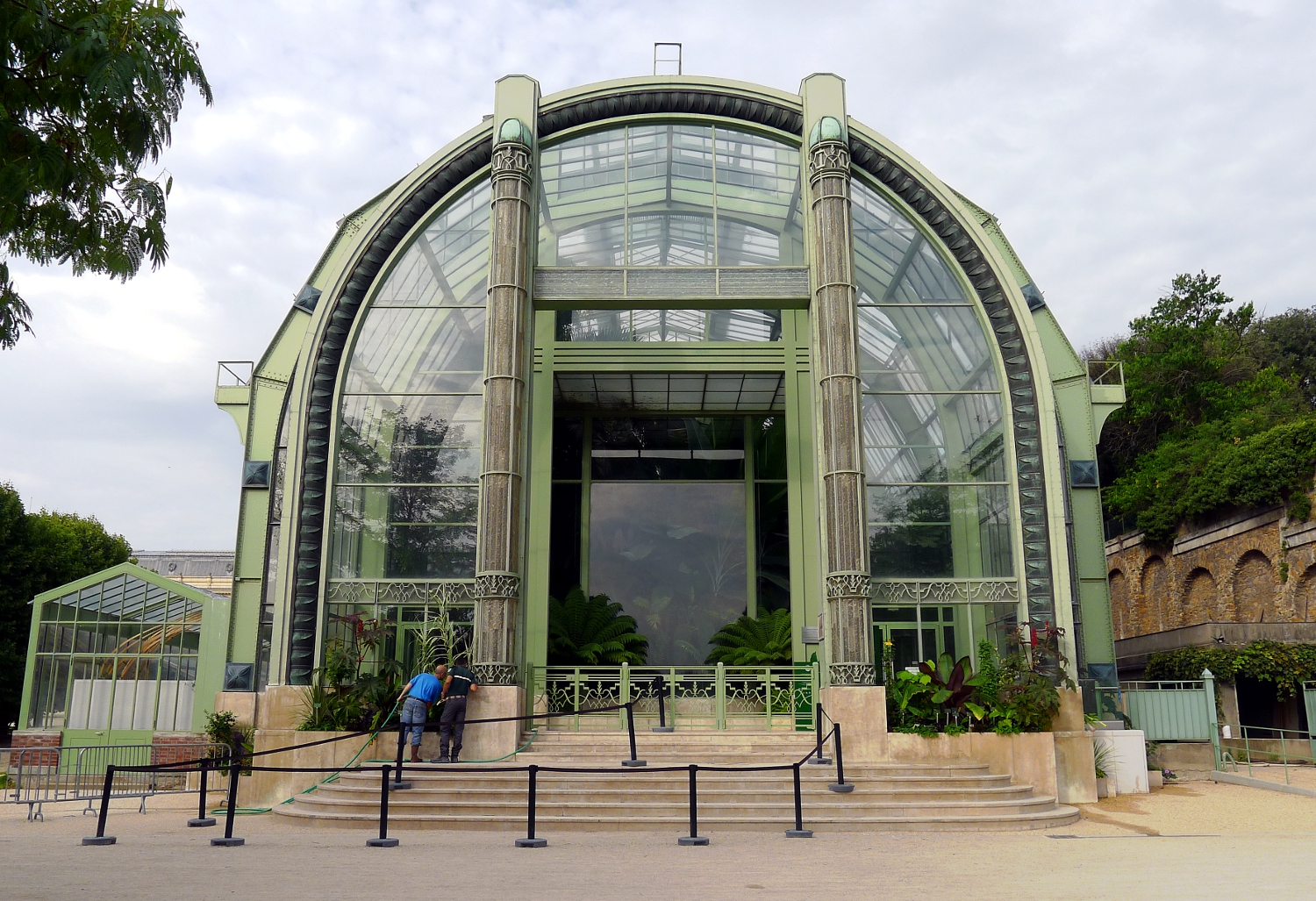 Located on the banks of the River Seine, the Jardin des Plantes is one of the world's oldest botanical gardens.  The gardens feature three beautiful historical glass hothouses, a tropical garden, alpine garden, Art Deco winter garden and rose garden.  Jardin des Plantes is also home to a small zoo and the National History Museum.  Popular with families and students, the park has numerous benches to enjoy a picnic or just to take in the tranquil views of the surrounding flora.
What's nearby:  The Latin Quarter
Planning a trip to Paris?  Check out more articles on our Travel page.