Nashville, Tennessee is one of those all-American cities with a deep down-home country pride vibe but, it has the added distinction of being the epicenter of Country music. The city is an understated blend of urban hipness and revival while managing to maintain its charming allure. It's no wonder Nashville has quickly become one of America's hottest travel destinations and a city that had been on the top of my bucket list of places to visit.  So when I had the opportunity to accompany my hubby on a business trip to Music City USA, my bags were packed before he could finish asking me if I wanted to go.

As this would primarily be a business trip, actually getting to discover this amazing city would pose a few problems for us (and they were big ones considering all that Nashville has to offer). One, we only had one free day to explore the city and two, we were not going to have a rental car to see the sights outside of downtown. Knowing this upfront allowed us to be fully aware that we were never going to see every must-do thing we had our hearts set on seeing. However, if we started our day early with a strong cup of Joe, a good pair of walking shoes, and focused our explorations to the downtown area I knew we would still have plenty to see.
Since time was of the essence, I mapped out a list of the places we could easily get to on foot.  One of the benefits of visiting a city with a downtown like Nashville's is how compact it is and how walkable it is between each location.  

If your heart is set on seeing the Gulch, Music Row, the Centennial Park area, Opryland, and some of the city's more famous eateries and art murals outside of the downtown area, I would suggest that you stay an extra day or two and either rent a car, Uber it, or do the Hop On/Hop Off bus tour.  Unfortunately for us, we only had one day to explore, so we couldn't take advantage of driving to some of Nashville's other gems.

So what exactly did we get to discover with our limited time? I put together a "Walking Tour" to help you see just how much one can do in just one day in Nashville.
A| 417 Union: To get the most out of our precious time, we opted to have a hearty breakfast in downtown to fuel our adventures. We decided to try 417 Union. This kitchy two-story restaurant, with the name of its actual location, was a surprise find for us. With lines out the door, we knew that the food must be good. Good was an understatement and their biscuits, buttery and soft, were a treat for my tastebuds. We sat upstairs in one of the rooms that still had the decor and feel of the former apartment that once existed.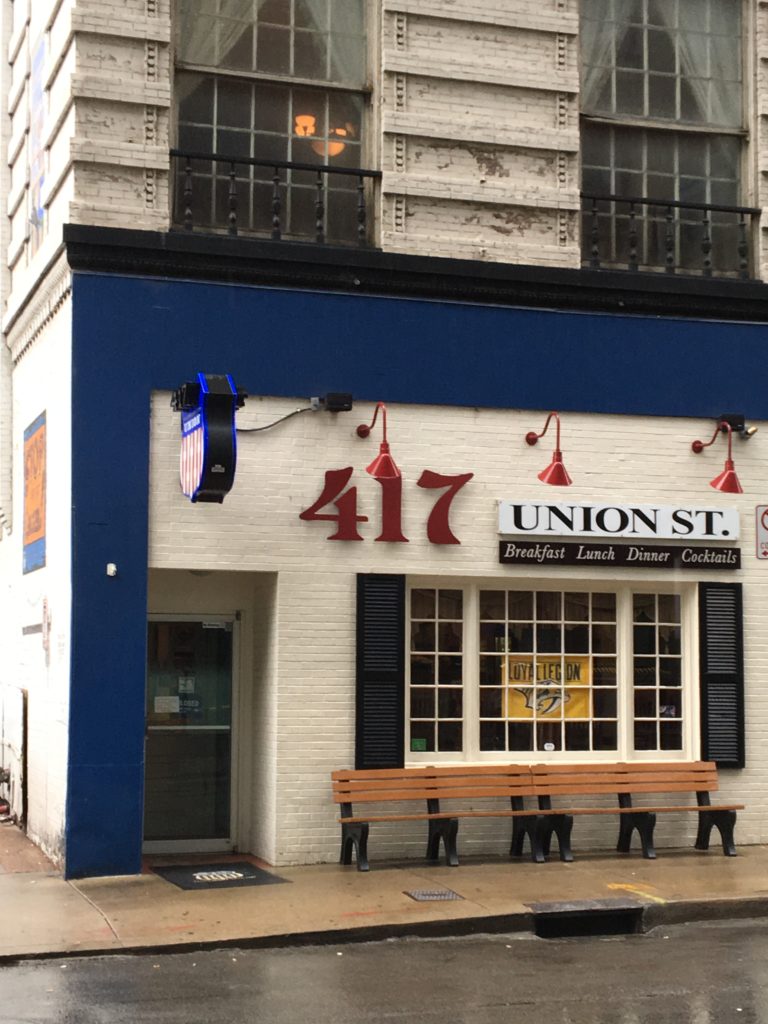 Once our bellies were full, we were ready to begin our journey. The first landmark on our list was the Tennessee State Capitol Museum. The journey we took and how to get to each place is shown in the above interactive map. Feel free to use it to help you navigate your way to the next stop on our "tour".
B| The Tennessee State Capitol Museum: Monday through Friday, visitors can enjoy free tours of one of the oldest working capitols in the U.S. Some of the permanent exhibitions you can see when visiting are the Tennessee Time Tunnel, the Natural History exhibit, First Peoples exhibit, the Civil War Reconstruction, and Tennessee Transforms. It's a great museum to start with as it provides visitors with a back story to Tennessee's history and helps you appreciate the city a bit more.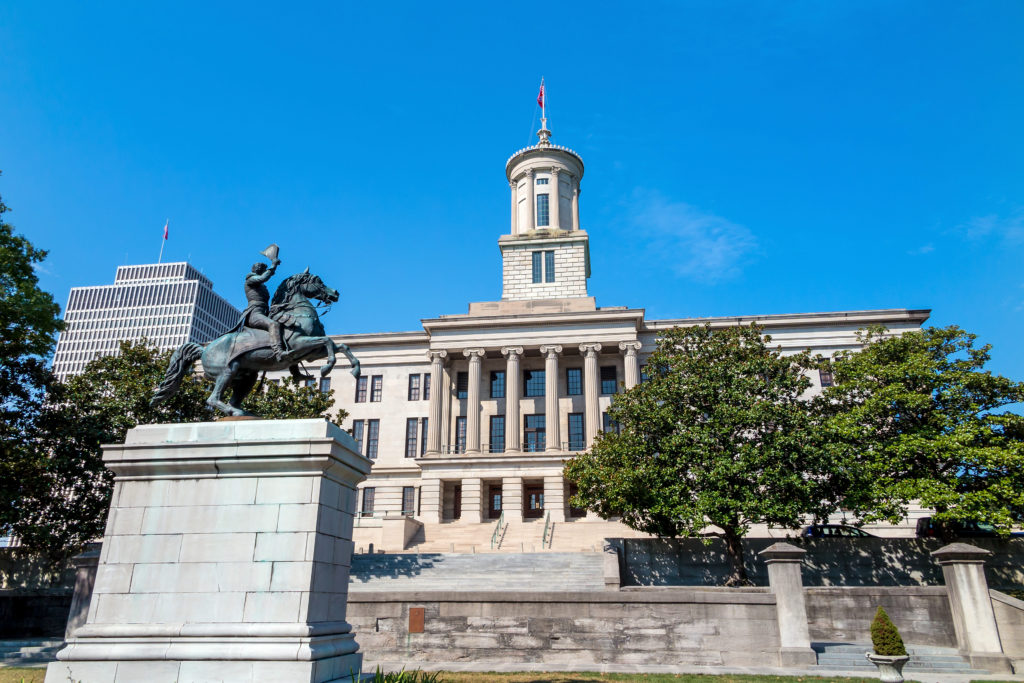 C| Bicentennial Capitol State Park: If you are very short on time, you may want to skip this spot, but if you can fit it into your day it is worth exploring. This 19-acre State Park takes visitors on a "history" walk which includes a 200-foot granite map of the state, a World War II Memorial, a Pathway of History and the Rivers of Tennessee Fountains.
It was a fascinating park to explore and I found it to be a unique way to learn a little bit about the state's history. On a personal note, one of my favorite things about visiting someplace new is getting to enjoy its green spaces. The day we visited it was raining, so our stop here was cut a bit too short.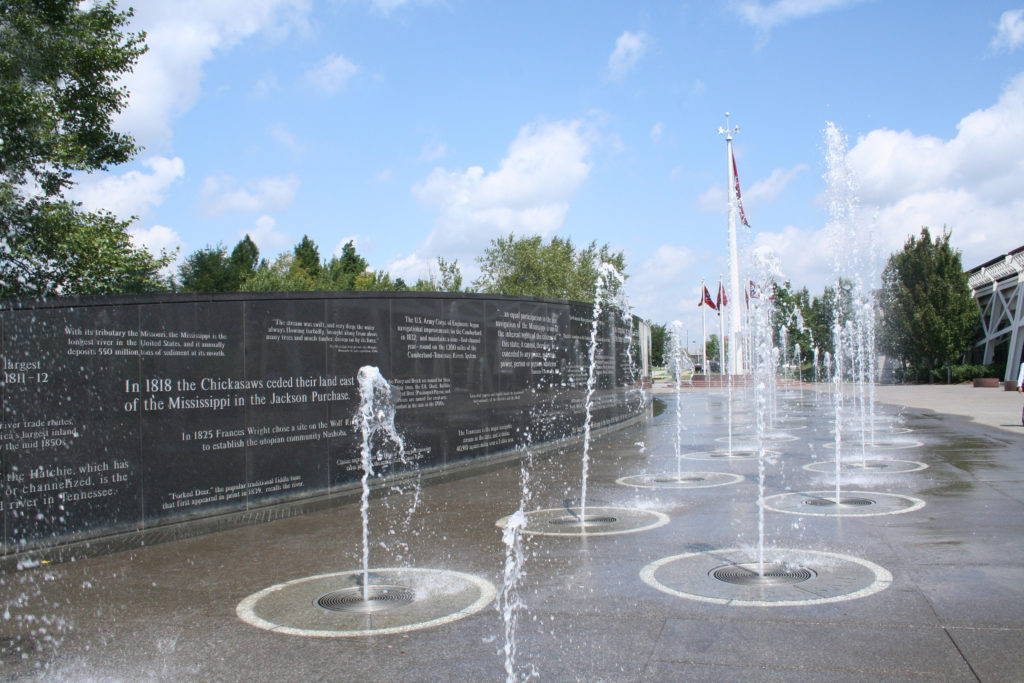 D| Musicians Hall of Fame: We stumbled across this place on our way to another museum, and loved that it featured musicians from all genres of music, not just country. Not to be confused with the Country Music Hall of Fame, this museum claims to be the only museum in the world that honors talented musicians who actually played on the greatest recordings of all time. Finding this place was a fun surprise and I recommend it to anyone who is a music lover. I didn't post a picture as we were in a bit of a rainstorm and didn't have the opportunity to take one.
E| Painter's Alley: This famous historic little alley sits between 3rd and 4th Avenues and has been known to be the home of Nashville's nightclub scene for decades. It's a small area, but not very lively during the day. However, the historical significance of Painter's Alley is something to experience.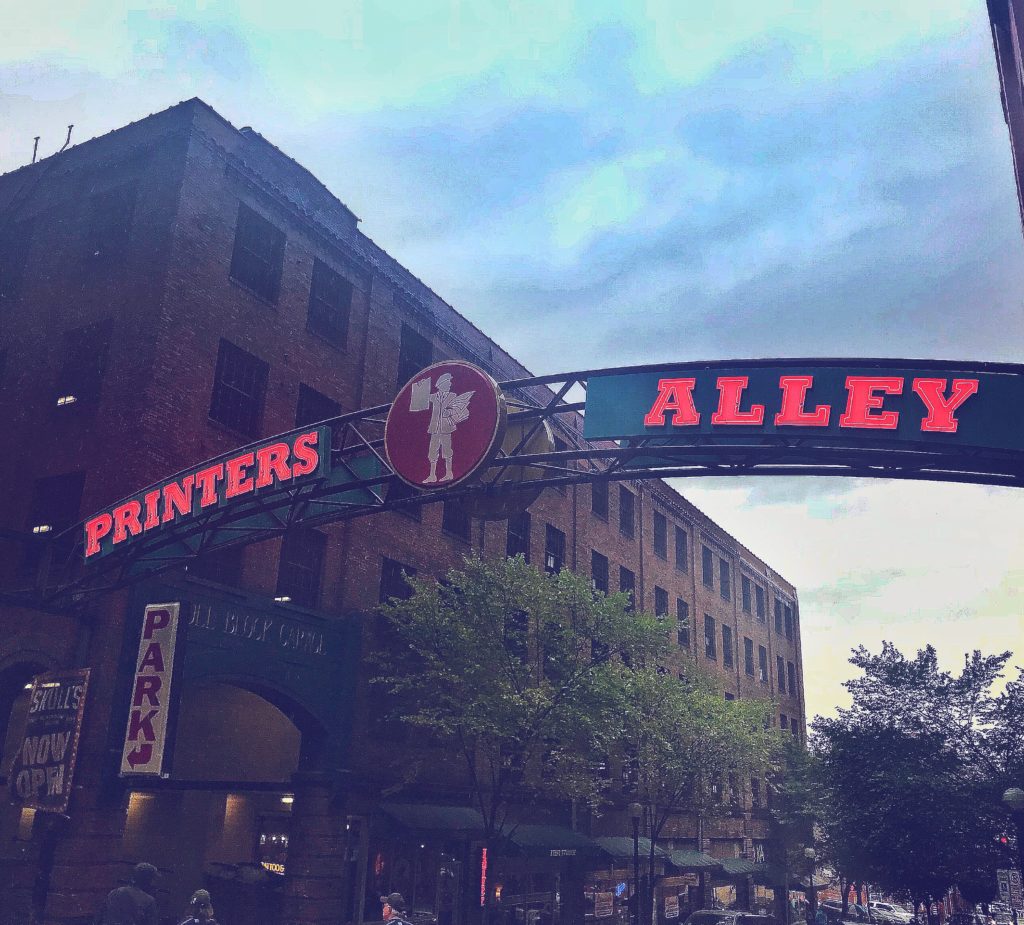 F| Goo Goo Candy Shop: As a serious chocoholic, I had Goo Goo Candy Shop circled in red on my itinerary. This candy shop in the heart of downtown Nashville is famous for its cluster-style candies. My hubby made sure to pick up a few extra boxes to bring home. For Instagram fans, they have a selfie station to strike your best pose.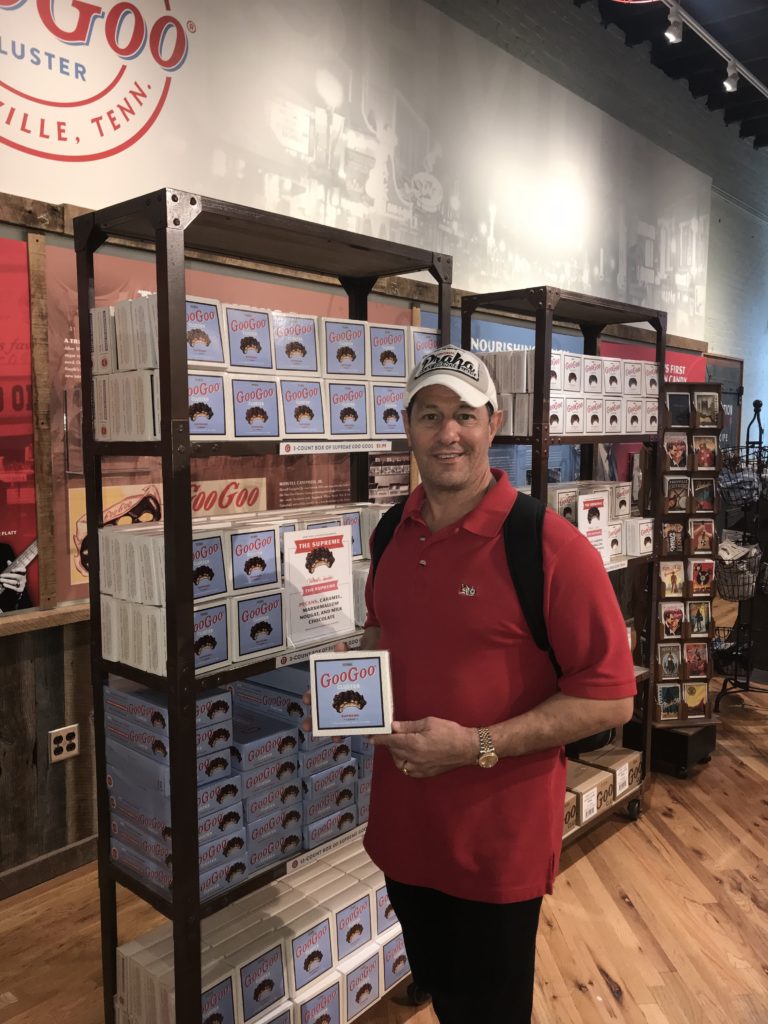 G| Johnny Cash and Patsy Cline Museums: Directly across from Goo Goo Candy Shop is where you will find museums honoring two of Country music's great legends — Johnny Cash and Patsy Cline. Ranked as one of the top music museums in the world by several renown travel magazines, The Johnny Cash Museum is home to the largest collection of Johnny Cash memorabilia in the world. If you weren't a fan of the "man in black" before entering this place, you will leave being one. Located above the Johnny Cash Museum is the Patsy Cline Museum. Although she tragically died in an airplane crash at age 30, she left a mark on Country music forever and the museum named after her perfectly captures her life and spirit.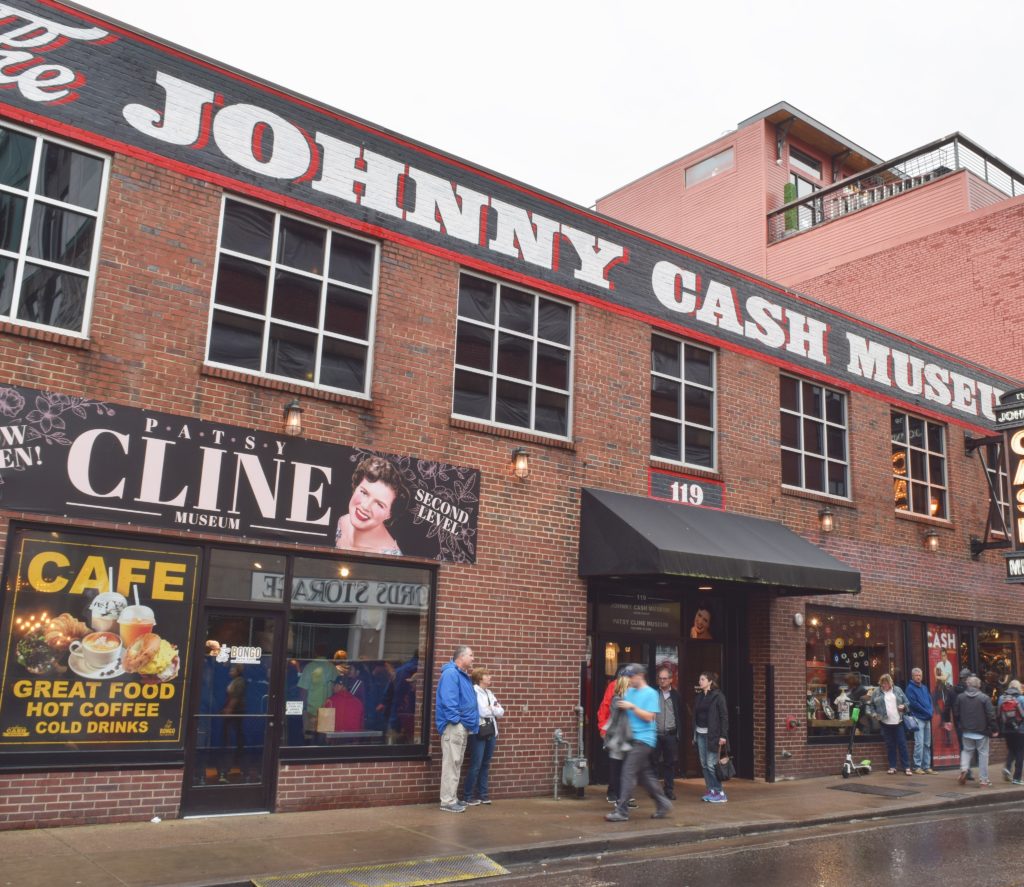 H| John Seigenthaler Pedestrian Bridge: This busy pedestrian-only bridge spans the mighty Cumberland River connecting Nashville's downtown to Nissan Stadium. Besides the stunning picturesque views of the city's skyline, it happens to be one of the longest pedestrian bridges in the world. Since it makes a perfect place to snap a picture of yourself with the city in the background, I just had to take one!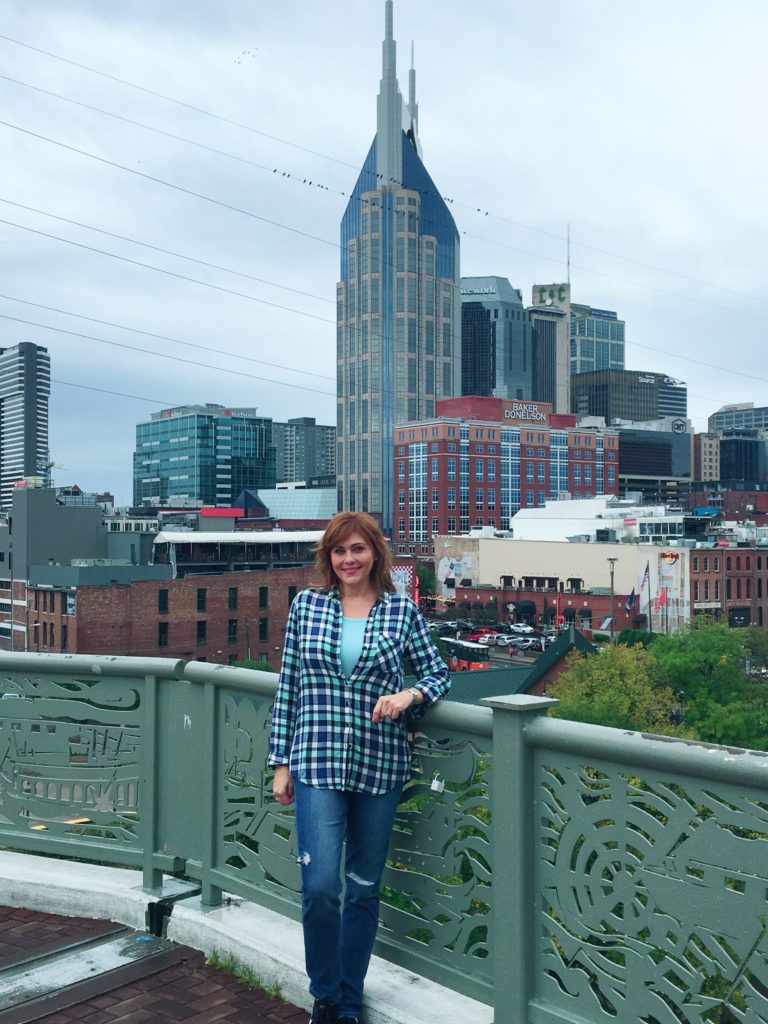 I| Country Music Hall of Fame: OK, if you only have one museum to visit when you are in Nashville, this would be the one to enter. This museum with over 350,000 square feet of space has been ranked as one of the top 10 most important museums to visit in the world. It houses a Country Music Hall of Fame, permanent exhibits and special exhibits, costumes, musical instruments, and more. Honestly, I underestimated just how much history this place holds and how much time I would need to spend. Needless to say, I didn't get to see nearly everything I had wanted, but that's all the more reason to come back.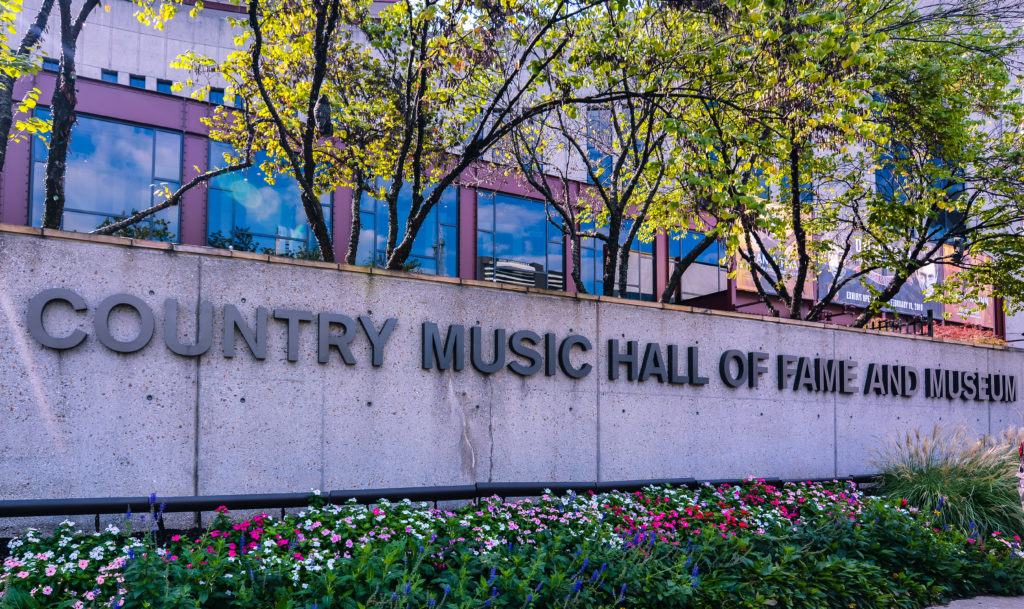 J| Ryman Auditorium: This is the Holy Grail of Country Music history. Originally built as the Union Gospel Tabernacle, the building still has that church-like aurora surrounding it. Most people, however, know it as the original home of the Grand Ole Opry. This iconic landmark first opened its doors in 1892 and today visitors can tour this historic building and learn about its important contribution to Country Music history. Even if you don't have time to check out what's inside, just standing in its presence is awe-inspiring.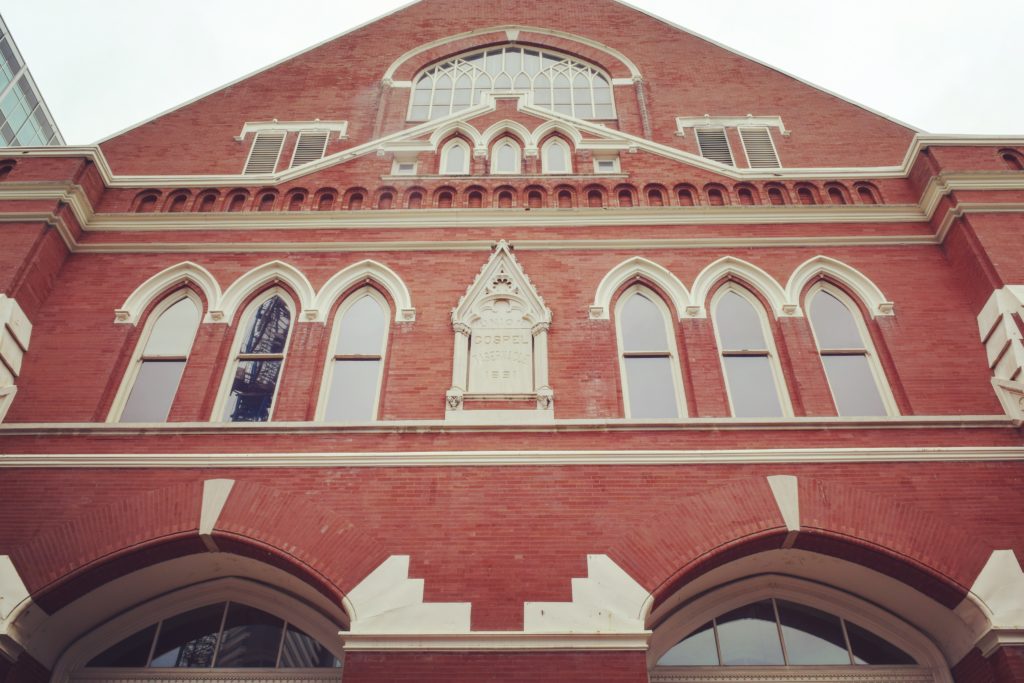 K| Lower Broadway – Honky Tonks: Last but not least, we finally headed over to Lower Broadway for a Honky Tonk crawl. After a fast-paced day of touring the city, I loved being able to kick back, grab a cold one and listen to the incredibly talented musicians that each Honky Tonk had playing. This is a loud, fun and crazy street that visitors can't seem to get enough of. From 10 am to 3 am this is where the party is at. The beauty of Lower Broadway is that there is no cover charge and you can go from one bar to the next depending upon your mood and musical tastes. My personal favorites were Legends Corner, Honky Tonk Center with its three floors of live music and great views of the action below, and Jason Aldean's Kitchen & Rooftop Bar.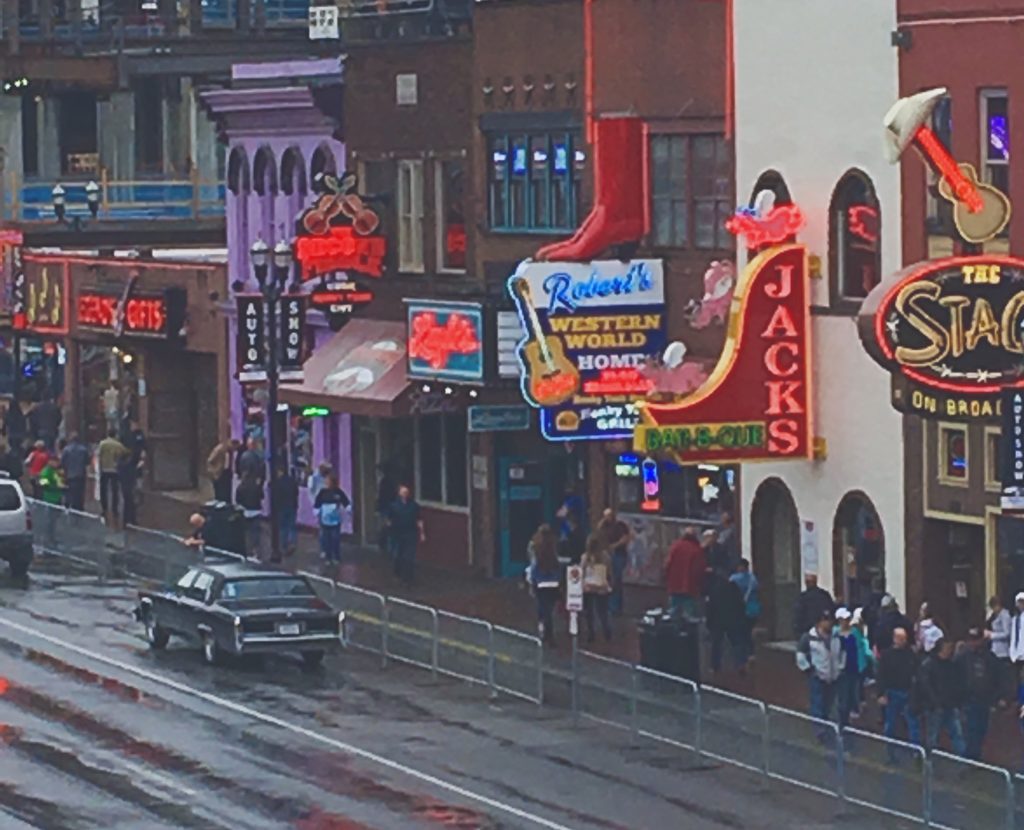 After enjoying our time hopping from one bar to the next, our day soon came to an end, a little exhausted, but a lot impressed.
What I can say about Nashville is:
You need more than one day, but if one day is all you have you won't leave like you didn't get to see anything.
The city is extremely walkable and for the average person, they will not need transportation to get from one landmark to the next.
Take little breaks to enjoy the beauty of the city and to grab a snack here and there.
If you didn't arrive a Country Music fan, you will at least leave with a greater appreciation for this music genre.
And, I forgot, the people are the nicest most friendly people you will meet.
Leave a comment below and tell me what your favorite part of the city is. As always, please "Like", "Share", "Tweet" and "Pin" this article to share with your friends who are planning to visit Nashville.