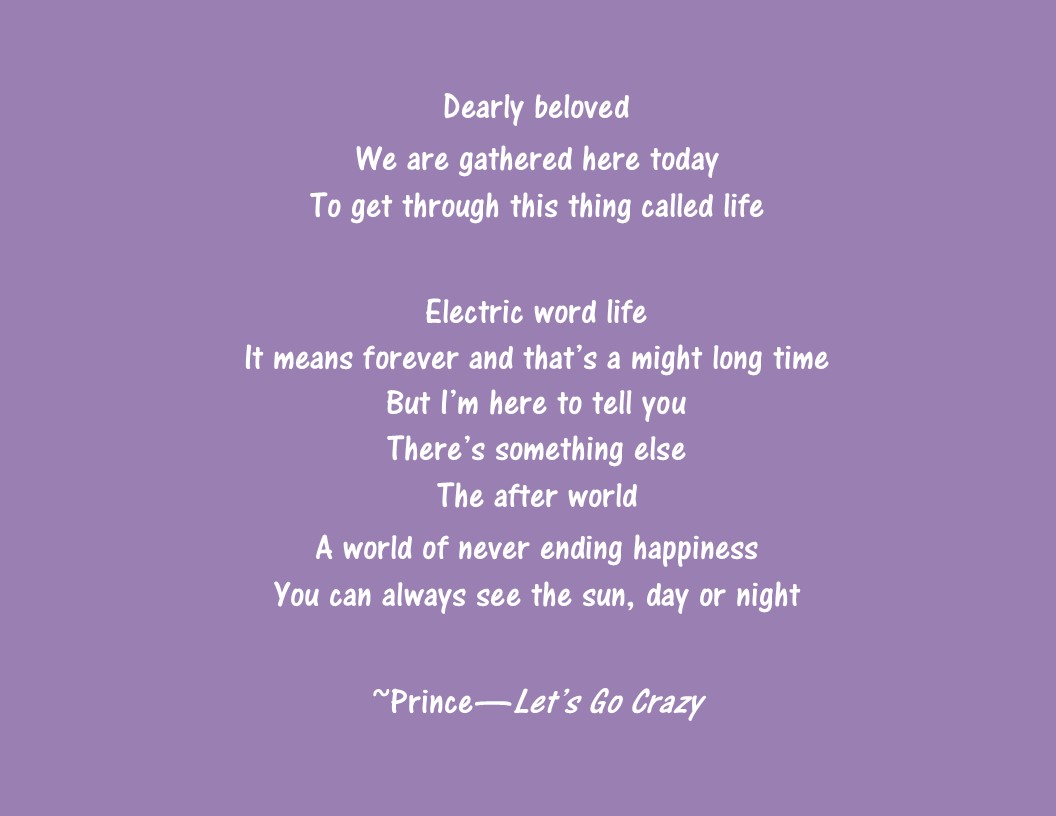 Dearly Beloved: We are gathered here today, mourning the loss of a truly gifted, musical genius and one of the world's greatest icons.  Prince once sang about what it sounded like when doves cry, and now all across the world you are hearing the sounds when the world cries. May he be in that world of never ending happiness.
Whether or not you were a Prince fan, his music became a part of your life.  Few artists have created a volume of work as deep, rich and varied as Prince. How many of us can still recite word for word, the beginning lyrics of Let's Go Crazy or danced a New Year's Eve night way singing 1999.  He was pure genius, writing every lyric, playing every instrument and pouring a piece of his royal soul into every masterpiece he ever produced.
For those of us who came to age in the 80's, the headlines and the news feeds of Prince's death stopped us in our tracks.  When I first heard the news, I was in shock and disbelief at how a talent like Prince could be taken from us too soon and reminded of how fragile our own mortality is.  Now that the shock has settled in just a bit, I am sitting here listing to his music and reminiscing.
With every song, every lyric, every emotion Prince sang about and I'm instantly transported back in time to a life long ago.  I'm remembering the times that I spent listening to 1999 and thinking how far into the future it seemed and imagined how my life would be.  Now, I  realize just how long ago 1999 was and how different my life is today.  Instead of searching through a library of cassettes, I'm scrolling through my playlists on Pandora, Spotify and iTunes and reliving the music of my youth.
As I listen to Prince's songs, I am transported back to a little town in western Pennsylvania, to a time when life offered so many possibilities and to the age when I was that awkward shy teen trying find her way in the world.  To first loves, to first make out sessions, to first heart aches, to the friends that loved you no matter how weird anyone else thought you were, to the crazy times with Faith and Michelle and our pursuit of trying to sneak into the clubs – Prince's music was always in the background and on the dance floor.
RIP Prince.  You may be physically gone, but your soul will continue to live on in your music and in our memories.