As the sun slowly set on Sunfest 2016, the night heated up with performances by Alabama Shakes, Walk The Moon, and my personal favorite Evanescence.  After 5 days and nights of non-stop activities and 50 bands performing on 3 separate stages, the last musical artists stepped on their prospective stages for performances that rocked downtown West Palm Beach like a mighty musical earthquake.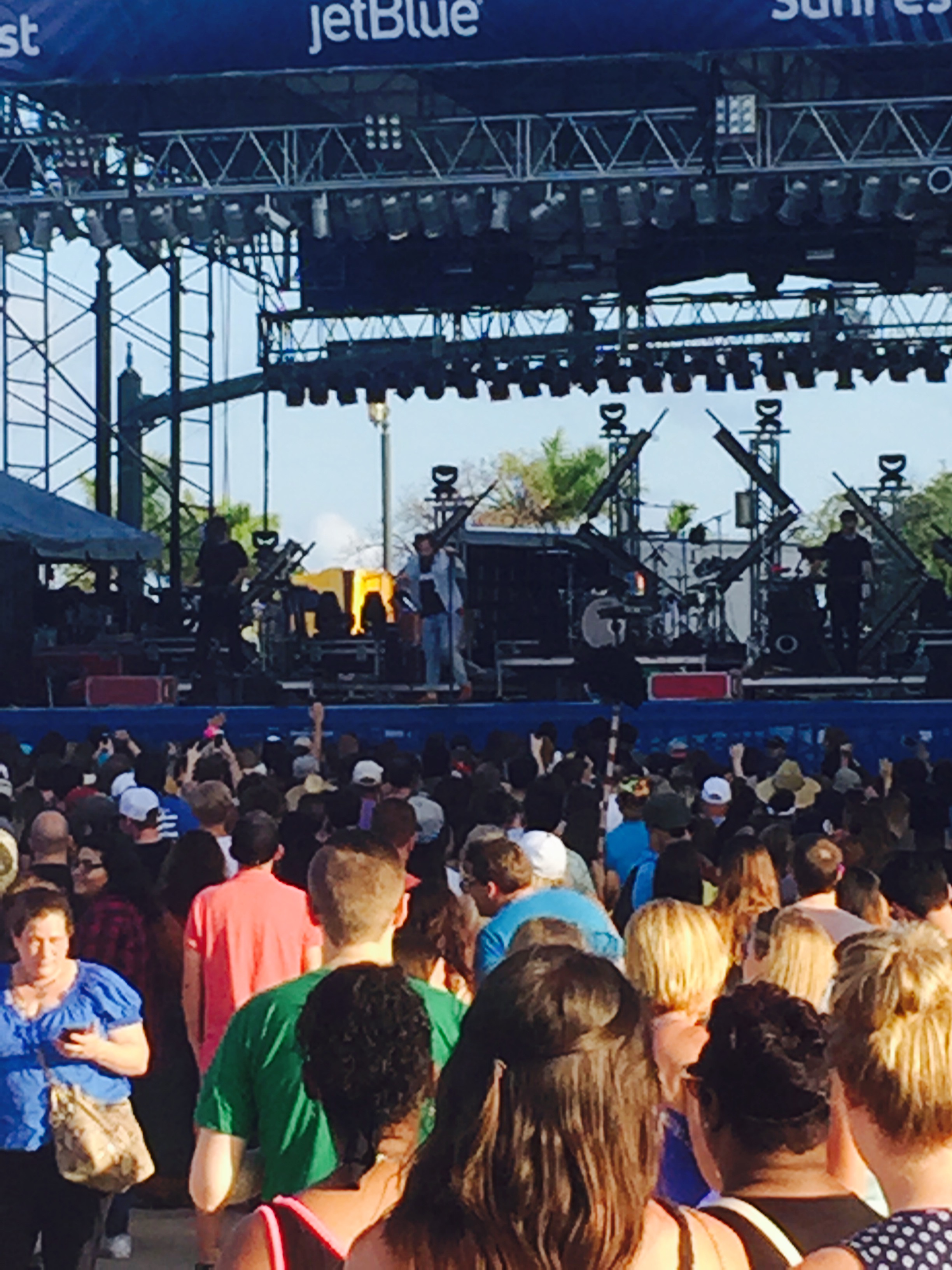 To avoid the heat of the day, Jeff and I arrived later in the afternoon to take advantage of slightly cooler temps and the shade created by the shadows of the downtown high rises.  We still had plenty of time to explore the vendors south of the Tire Kingdom Stage and an opportunity to casually stroll through the fine arts and crafts show before making our way to the Jet Blue Stage  — just in time to catch Canadian band Coleman Hell.  The band's indie-electronica beats had the audience on their feet and dancing along with their high energy performance.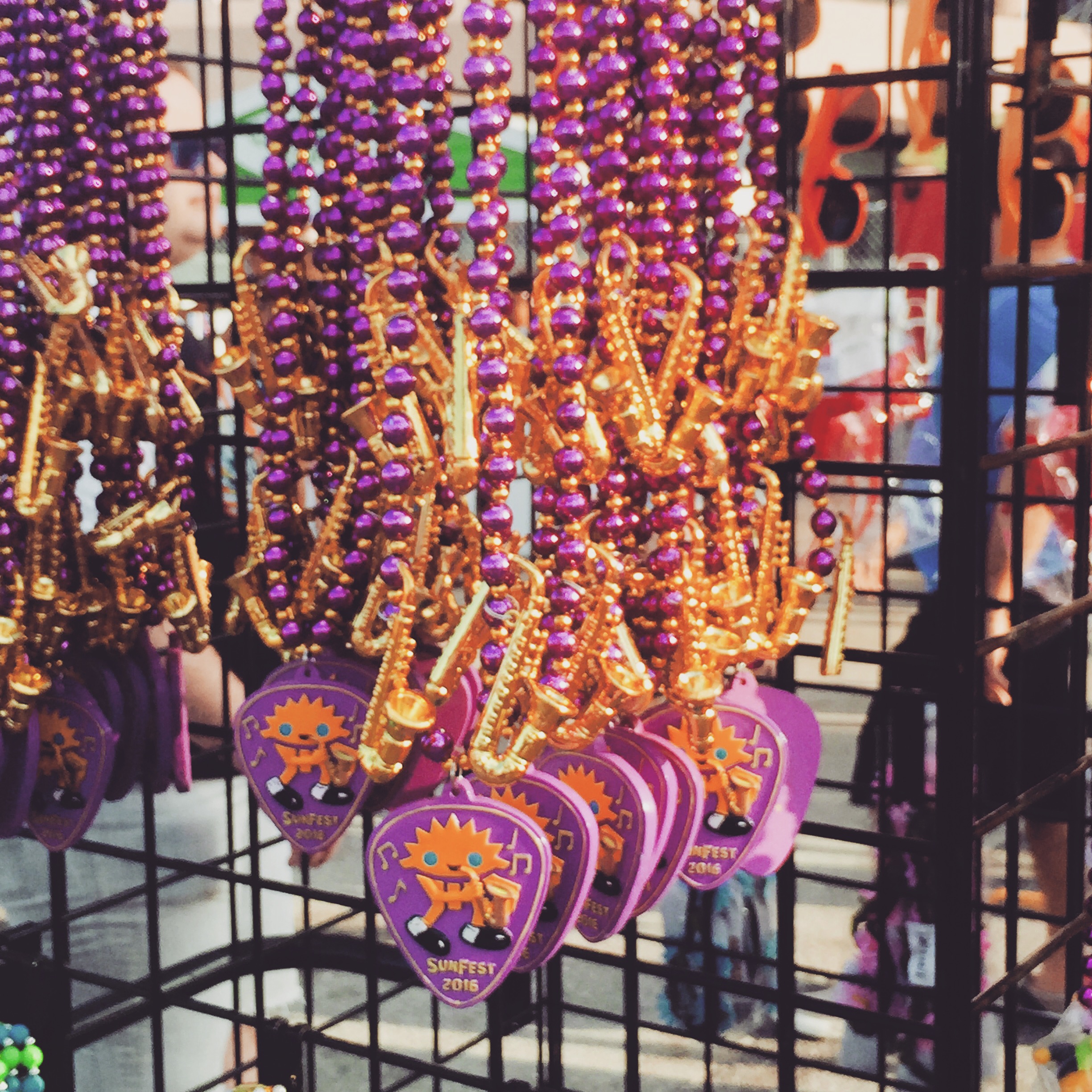 On our way back to the Tire Kingdom Stage where headliner, Evanescence, was slated to perform, we stopped for a bite to eat and to rest up for the show.  The reprieve gave us an opportunity to enjoy the breezes and take in the views of the waterfront.  It also gave us a chance to check out this year's Sunfest 2016's collector beads.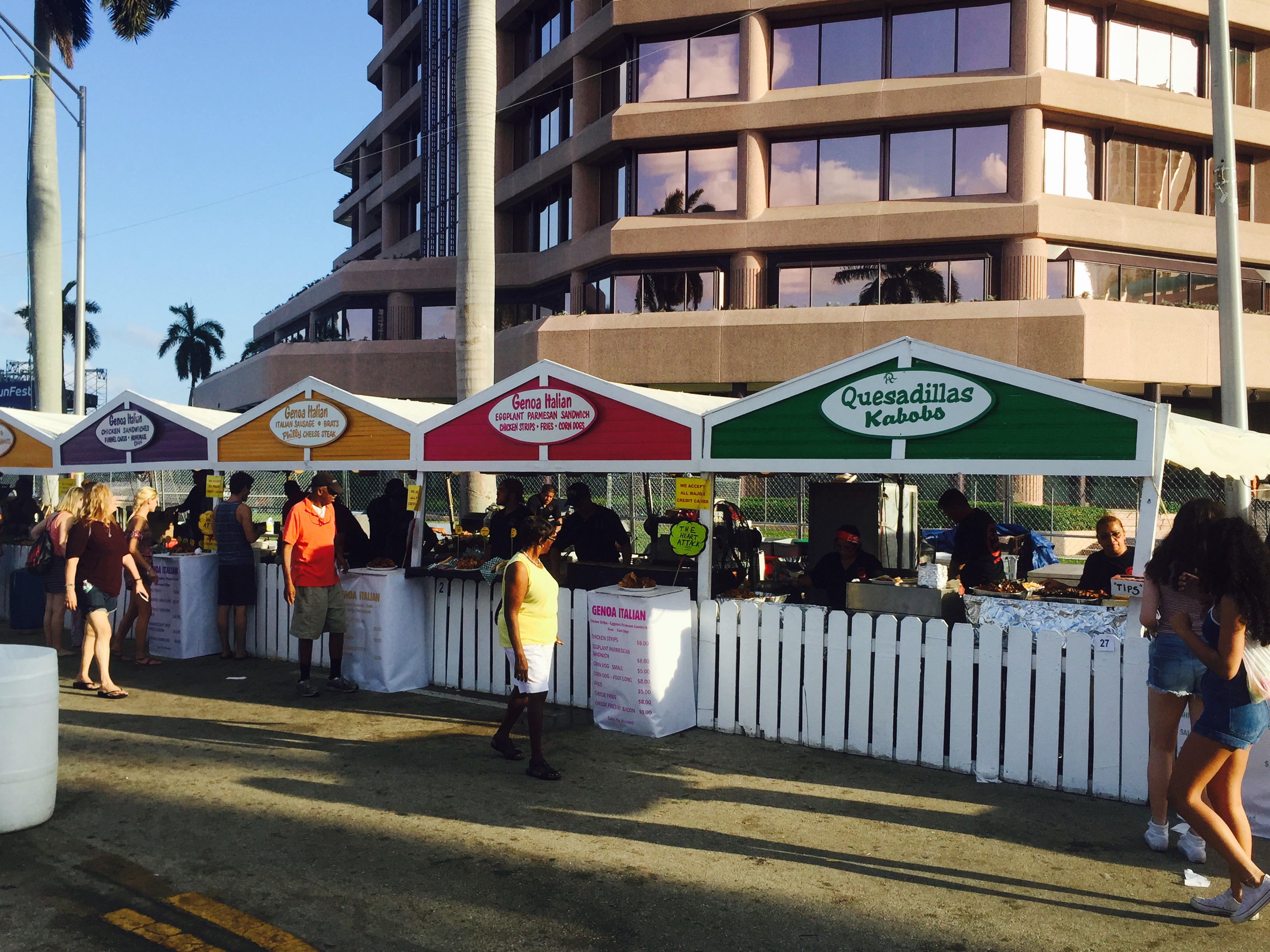 I'm still trying to figure out what a Quesadilla Kabob is.
As we anxiously waited for the final band of Sunfest 2016 to step on stage, the crowd gathered around the Tire Kingdom Stage anticipating an epic performance.  Evanescence, one of the festival's closing headliner bands, attracted a wide and varied fan base. We were surrounded by people from all generations and all walks of life; from young tatted and pierced 20 year-olds we chatted with, to conservatively dressed baby boomers.  Evanescence's music transcends the ages.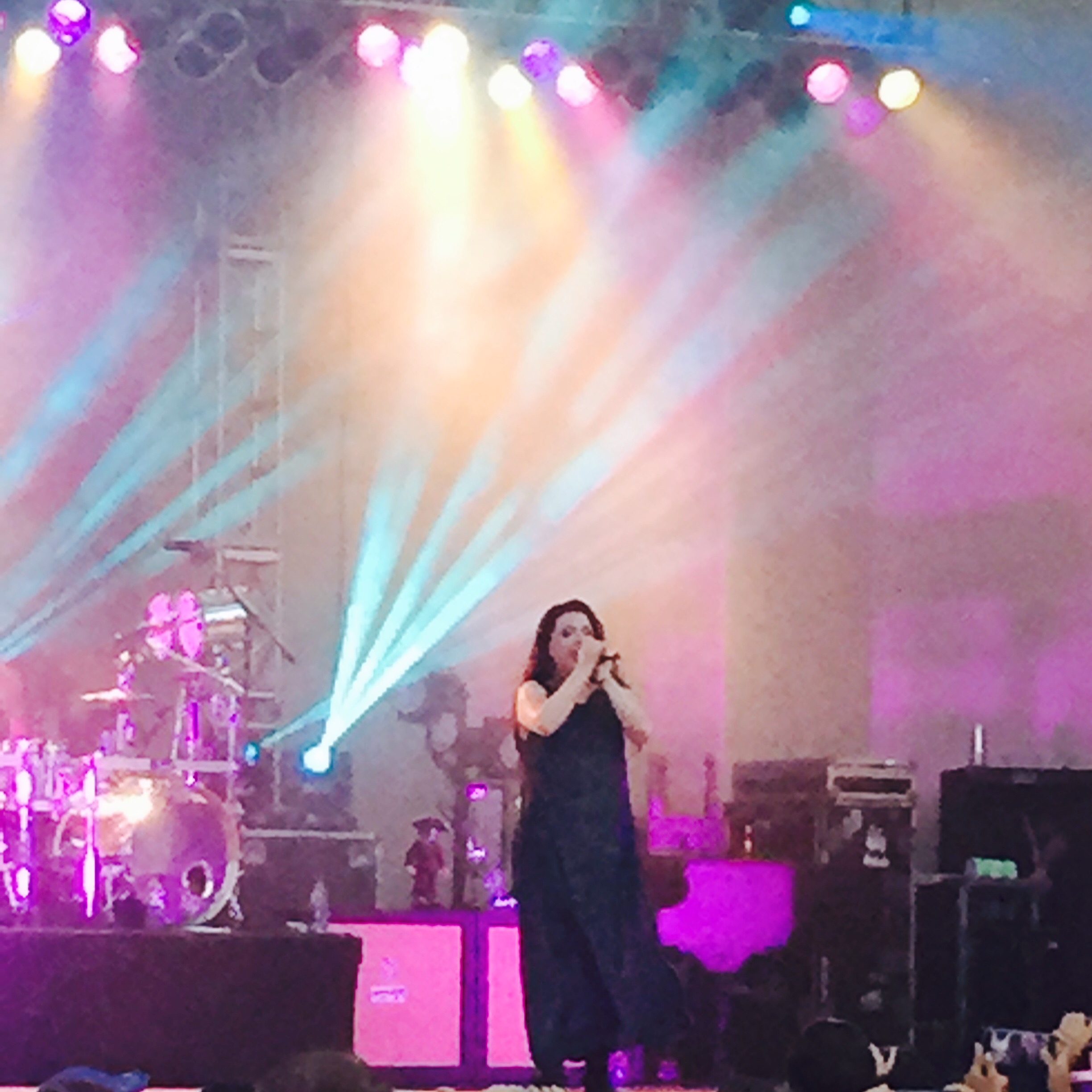 Once Evanescence took the stage, the audience was immediately taken on a magical musical journey guided by the hauntingly ethereal voice of Amy Lee, one of rock's greatest leading females.  Classically trained as a pianist and composer, Amy Lee has a voice with a vast range, balancing delicate angelic tones that soar straight to the heavens with powerfully rich notes that plummet into the deepest recesses of your soul.  You're hit with the force of an exploding atomic bomb, allowing Amy Lee's voice to seep into your every cell, awakening every emotion imaginable.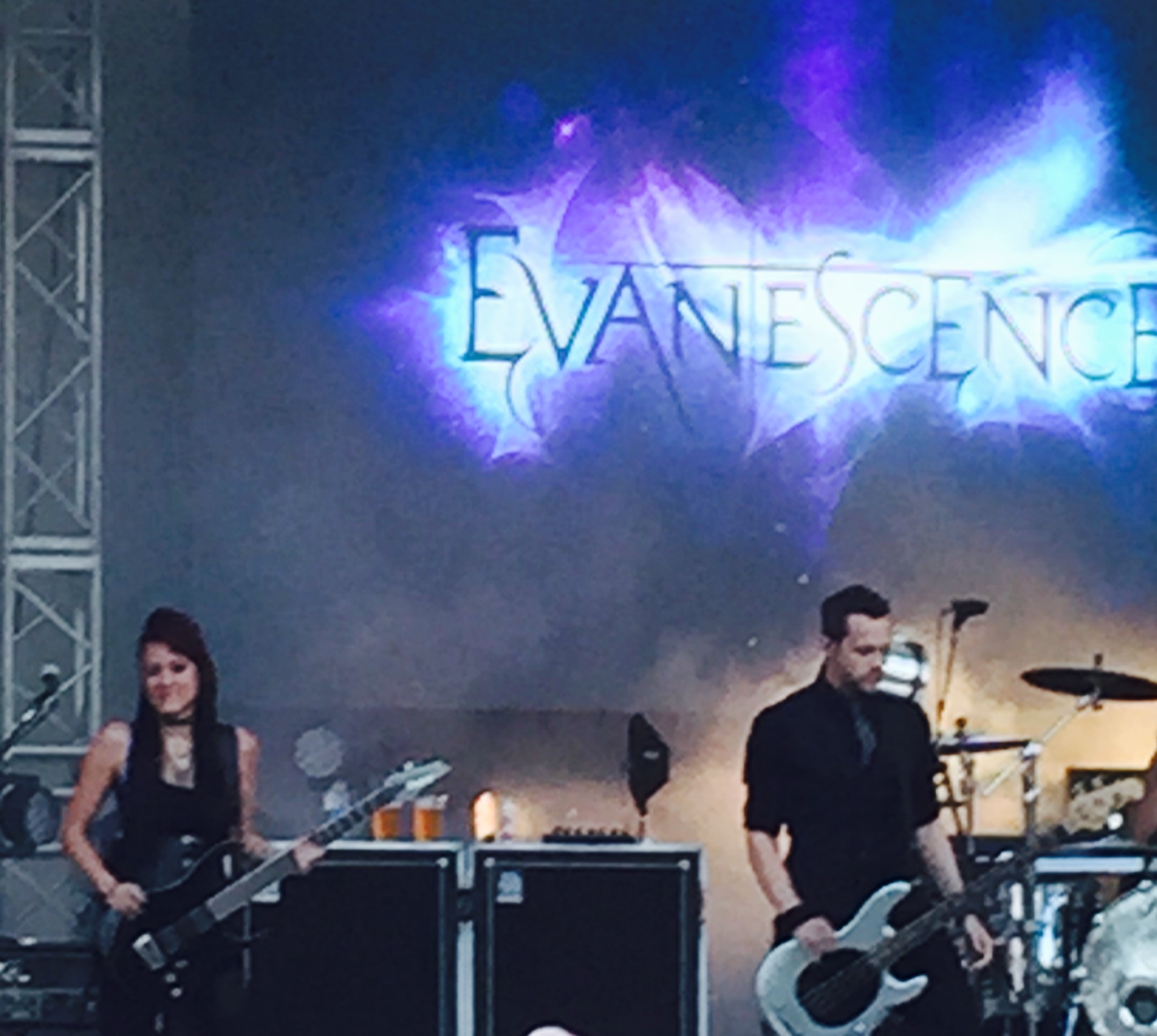 The band's energetic mixture of razor cutting guitar riffs, beautiful piano undertones and hard hitting drum beats came flawlessly together to create an edgy, raw, yet elegantly refined modern-day symphony of sound.  The crowd witnessed pure magic being created between the talented band members: Amy Lee (vocals, piano), Tim McCord (bass guitar), Troy, McLawhorn (lead guitar), Jen Majura (rhythm guitar) and Will Hunt (drums).
From hard-hitting songs, What You Want, Made of Stone, Hello, Going Under, Call Me When You're Sober, and The Other Side to softer emotional wrenching songs like My Immortal, Evanescence's performance did not disappoint. Every song was performed with such intensity, that the rock gods of the universe were left speechless and the crowd craving more.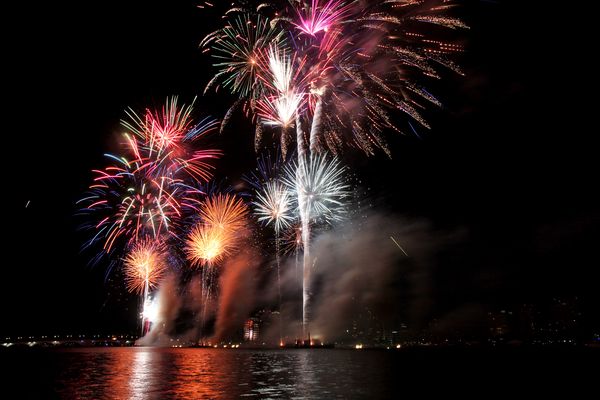 A spectacular fireworks show at the end of the evening, was the perfect way for Sunfest 2016 to officially come to an end.
Subscribe now!
Subscribe today and get future blog posts your email.