It happens to the best of us — even the most seasoned travelers among us.   Whether traveling for a vacation, business trip or some other adventure, there may come a time when an essential travel item you desperately need has been inadvertently packed into your checked bag or simply not packed in the first place.  When you're stuck thousands of feet above ground and nowhere to go, having the right carry-on items with you can be the difference between a comfortable flight and a grueling one.
So what exactly should you bring with you on your flight?
Let's start with your bag(s).  Most major airlines permit 2 carry-on bags: one small personal item (tote bag, small backpack, duffel bag) and one overhead stored piece of luggage.  My personal item is usually a large tote that will hold all of the essential items I will need, just in case my carry-on has to be checked.  For the guys, what usually works, is a multi-compartment computer bag, small back pack or sling bag.
For obvious reasons, make sure your most valuable and need-to-reach-quickly items are packed in the smaller bag. This is important because some carry-on bags are acceptable on one particular airline/flight, but not on another. This actually happened to me during one of my recent travels; my carry-on was permitted on the first leg of my trip, but wasn't permitted as carry-on for my connecting flight and had to be gate checked.  Thankfully, I was prepared and had my travel essentials safely tucked inside a tote that would fit under the seat in front of me.
With that in mind, before you pack your essential travel items, make a list of the items you can't be without should your checked bag(s) not arrive at your destination and place them in your smaller personal carry-on.  Our suggestions for the perfectly stocked carry-on bag to help you survive your flight include: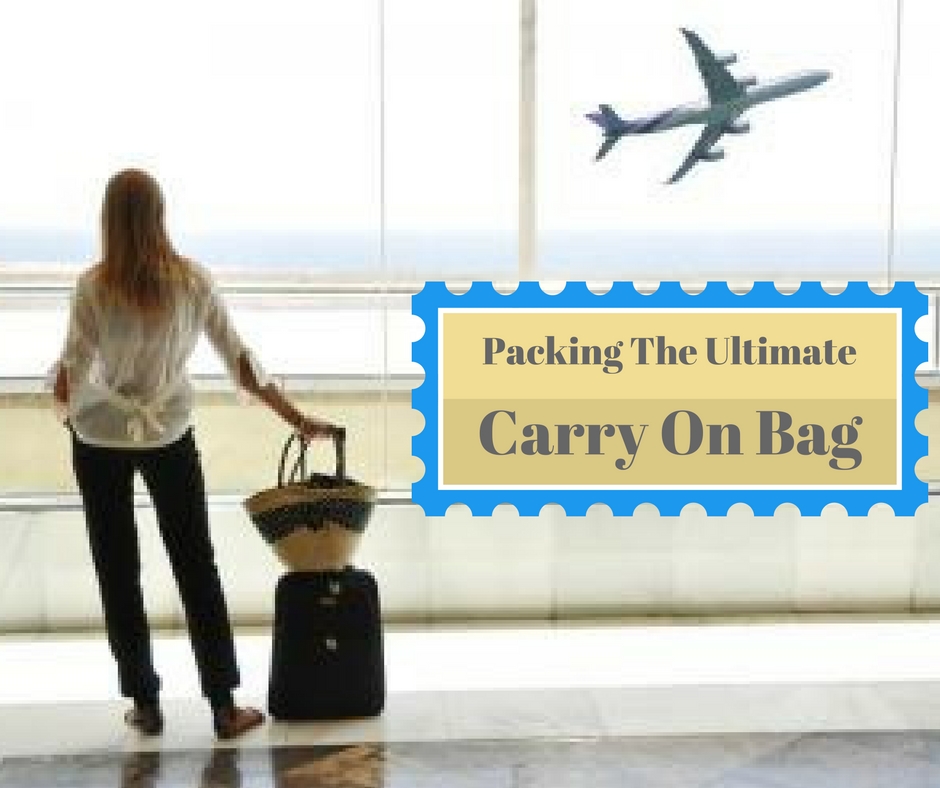 Valuables
Money, credit cards, cameras, jewelry, cameras, laptops, ipads, etc.  This is common sense, but many travelers have inadvertently packed their small cameras and ipads in their checked luggage.
Travel documents
Your passport (and a copy of one in case of theft or loss), ID, hotel reservations, travel itinerary, flight information, insurance documents, etc.  Even if you have them stored in your smart phone, hard copies will come in handy should your battery lose power.  Or worse, should your phone become lost or stolen.
OTC/Prescription Medicine
Prescription medicine in its original package, allergy medicine, aspirin/ibuprofin, sleep aids (for long flights), etc.  If bringing prescription medication, make sure to have a copy of the original prescription should it become lost while you are traveling or if you should be questioned about a particular medication when entering a foreign country.
Gum, Mints or Candy
Gum will come in handy when trying to alleviate the pressure in your ears during takeoff and landing.
Healthy Snacks/Food
Powerbars, trail mix, a piece of fruit, etc.  Having snacks readily available is helpful should your flight become delayed, cancelled, stuck on the runway, or you have a quick connecting flight that leaves you no time to grab food at the airport.  Being hungry with no food is not going to make your travels enjoyable.
Water
Bring an empty refillable water bottle or purchase a bottle water after you have gone through security.
Anti Bacterial Wipes
These will come in handy throughout your travels.  Airplanes are notoriously germy places.  Tray tables, headrests and armrests are not typically disinfected between flights and may pose a risk in spreading germs  — especially during flu season.  I've witness fellow passengers placing used tissues on tray tables and even saw a passenger change a baby on one.  If anything, wipe down the tray table.
Back-up Power Bank and Charging Cords
With our heavy reliance on technology, these items are common sense.  However, I have known people who have forgot to pack them in their carry-on bags.  If you will be traveling long distance, a portable charger is a must have.
Ear plugs
If you've ever tried to nap on a long flight with crying babies or loud talking passengers near you, these little foam items become a sanity saver.
Eye mask
If you plan to nap or will be taking a red-eye flight, eye masks will allow you to sleep when your seat mate wants to read or keep the window open.
Entertainment
Books, magazines, pre-loaded movies, music, games, etc.   Long flights are grueling enough, but if your air carrier doesn't have in-flight entertainment a back up source of entertainment will make your flight a bit more tolerable.  On a recent transatlantic flight, the plane we were traveling on did not come equipped in-flight entertainment and having a backup source of entertainment saved me from 8 hours of boredom.
Headphones
Another common sense item, especially If you've brought along pre-loaded movies and/or music.
Cozy Socks
If you're wearing slip-on shoes, sandals or flip-flop, packing a pair of comfy soft socks will make the flight more enjoyable.  Your feet will stay warm and your bare feet will not have to touch the floor.
Light Sweater/Jacket/Small Blanket
Airplane cabins can become quite chilly (and even some airports for that matter).  Always bring a light sweater or small blanket to keep you comfortable during your flight.
Neck Support/Travel Pillow
This little item may come in handy on longer flights.  Especially if you are stuck in the middle seat and don't particularly want to accidentally fall asleep on your neighbor's shoulder.
Pen and Notebook
You never know when you will need to right down directions or other important information.
Change of Clothes Packed in a Zip Lock Baggie
Just in case your overhead carry-on bag is checked at the gate, having an extra set of clothes will come in handy should your bag become lost.  Using a zip locked bag saves valuable space and keeps your clothing clean, dry and separate from your other items.
Glasses, Contact Case, Eyedrops
Always keep these items with you and within reach.  Traveling by air usually means dry eyes.  Should you suddenly need to take out your contacts, you will not need to rummage through your overhead stowed bag.
3-1-1 Bag of Travel Size Toiletries
Once again, should your carry-on actually be checked, having your toiletries with you will make you happy.  Especially  toothpaste and mouthwash after a long flight.
Lip Balm 
Lips can become uncomfortably dry during air travel.  A handy tube of lip balm will alleviate dry and cracked lips.
Make-up Remover/Face Wipes  
These come in handy when you need to quickly freshen up.  
Travel Umbrella or Poncho 
Weather can be unpredictable.  Having an small travel umbrella with you is always a smart idea.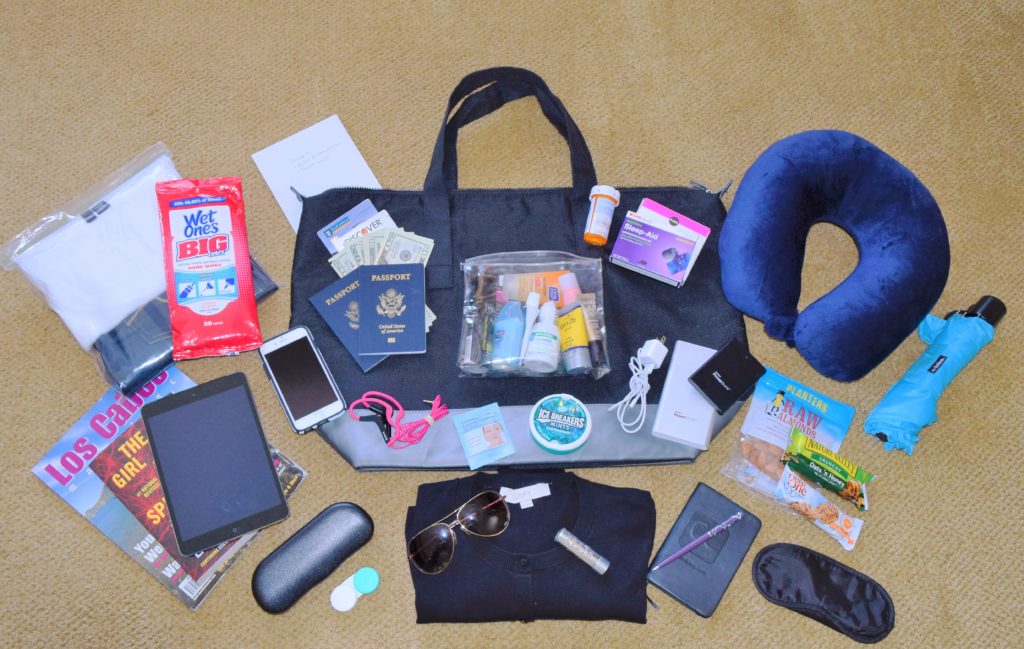 Let us know what items you can't fly without.  Follow our adventures on Facebook, Twitter, Instagram and Bloglovin'.