There is something so comforting and wonderfully nostalgic about listening to the music of the Christmas season.  Whether these songs are jazzy classics with Frank Sinatra and Dean Martin belting out their soulful lyrics or they are more modern-day toe-tapping songs from today's artists, there is just something so magical about a great Christmas song.
Celebrating the Holidays in tropical South Florida where it is summer every day, it can be hard to get the Christmas-y feeling when its 80 degrees and sunny, with no chance of a white Christmas in sight.  So, for me, listening to the sounds of the Holidays is one of the little ways I use to remind me that it is in fact Christmas time even if it doesn't look like it.  The familiar melodies are a sure fire way to help me get into the spirit of things and a good playlist is key to this.
If you enjoy Christmas as much as I do, and the holiday music is an important part of your celebrations, check out my list of the 25 Popular Christmas Songs That Will Get You Into The Holiday Spirit.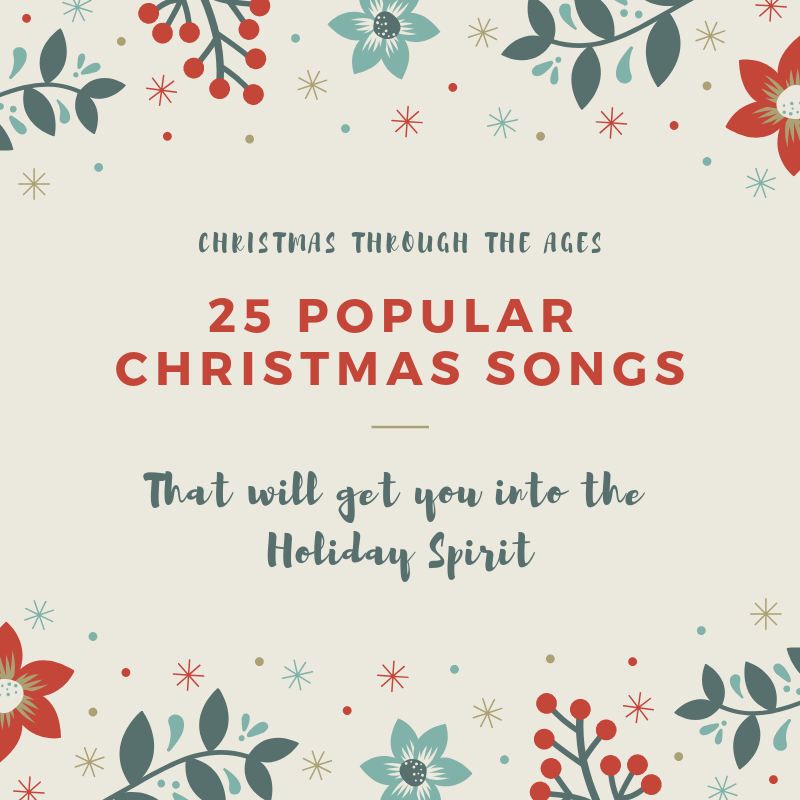 White Christmas – Bing Crosby
Silent Night – Missy & Blonde
It's Beginning to Look Like Christmas – Johnny Mathis
Sleigh Ride – Harry Connick, Jr.
Mary, Did You Know? – Pentatonix
Come All Ye Faithful – Eclipse 6
Do You Hear What I Hear – Vanessa Williams
Please Come Home For Christmas – Aaron Neville
Holly Jolly Christmas – Michael Buble
Do They Know It's Christmas Time – Band Aid
All I Want For Christmas Is You – Mariah Carey
Santa Baby – Kylie Minogue
Have Yourself a Merry Little Christmas – Kelly Clarkson
I Saw Mommy Kissing Santa Claus – The Jackson 5
I'll Be Home for Christmas – Brett Eldredge
Christmas Eve/Sarajevo – Trans-Siberian Orchestra
Let It Snow, Let It Snow, Let I Snow – Martina McBride
Walking in a Winter Wonderland –  Matt Wertz
Santa Claus Is Comin' to Town – Mariah Carey
Christmas Time Is Here – Sarah McLachlan, Diana Krall
It's The Most Wonderful Time of The Year – Andy Williams
Jingle Bell Rock – Bobby Helms
Rockin' Around The Christmas Tree – Brenda Lee
Last Christmas – Wham!
Silver Bells – Perry Como
Click here to visit Spotify and listen to it now.
Let me know what Christmas songs are your favorite by commenting below.  If I didn't include your favorite song, I would love to know what it is.
As always spread a little Holiday Cheer by "Liking", "Tweeting", "Pinning", and "Sharing" this with your friends.
Happy Holidays To You and Your Family