What is it about certain U.S. streets and boulevards that make them a "must see" travel destination?  Perhaps they appeal to our need to experience in person what we see in movies, television, and Instagram.  Or, maybe, they are just unique enough to stand out from every other street in every other town with their architecture, history, allure, and perhaps notorious party atmosphere.
Whatever the reasons for their popularity, these are the 14  famous U.S. streets that should be visited at least once in your lifetime.
Las Vegas Boulevard "The Strip" – Las Vegas, Nevada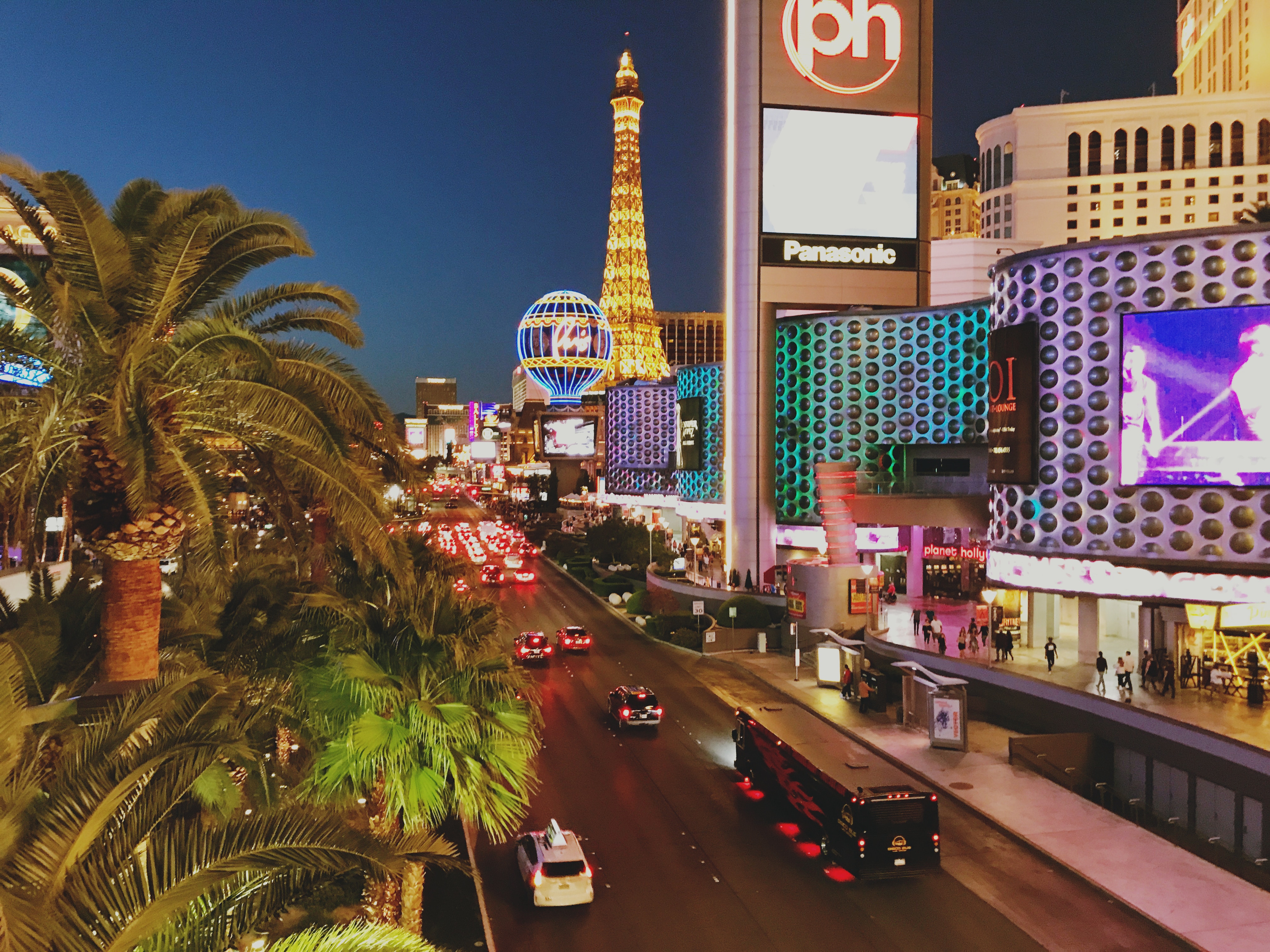 What happens in Vegas, stays in Vegas so the saying goes.  And most likely what happens, happens on Las Vegas' most famous street — Las Vegas Boulevard.   This famous street is known for its twinkling lights, bright neon signs, and the world's largest and grandest casinos that line this lady luck of a street.  Attracting high rollers and tourists from all around the globe, "The Strip" as it is more affectionately known, is the equivalent of the adult version of Disney and is visited by millions of people each year.
Ocean Drive – Miami Beach, Florida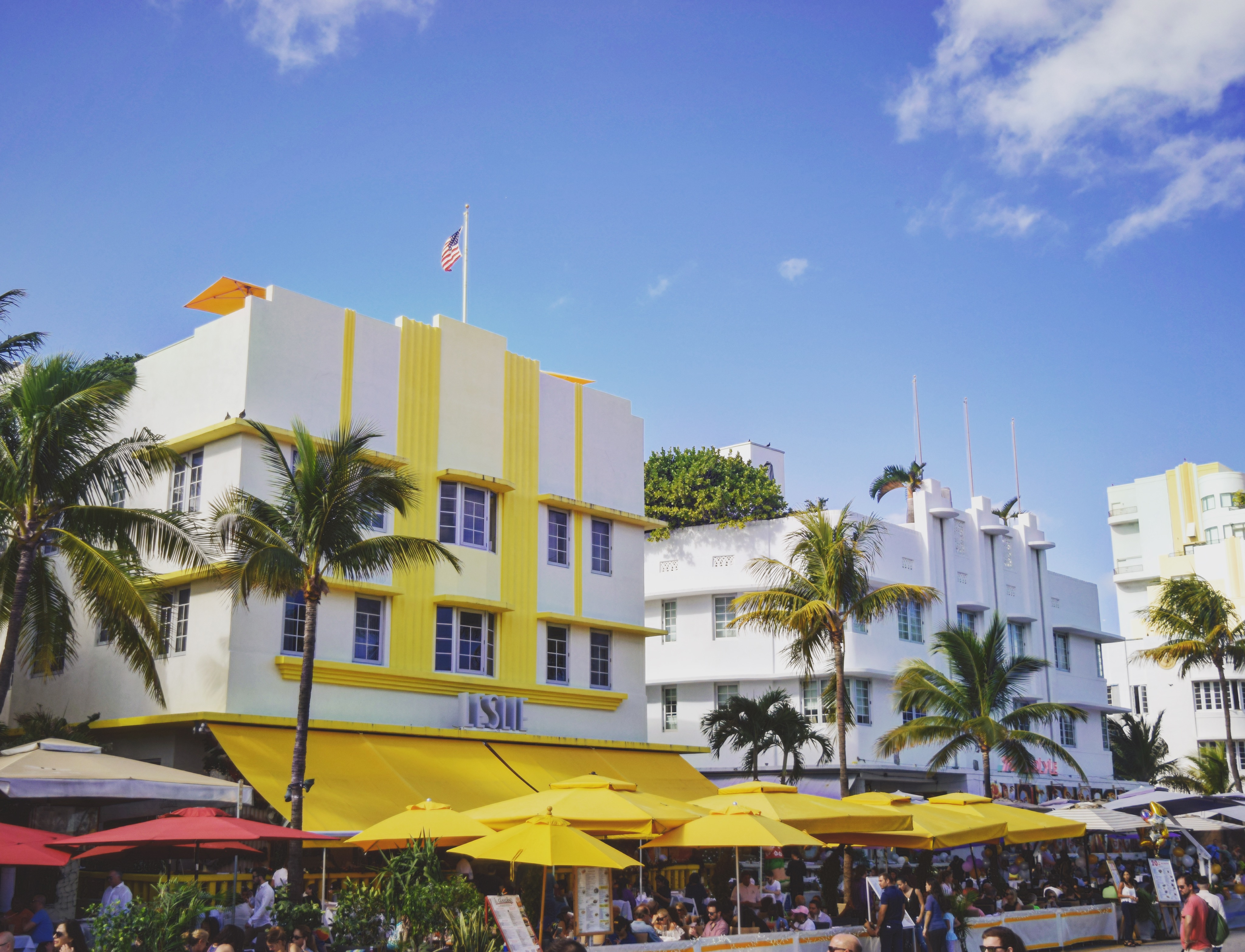 Ocean Drive is the epicenter of Miami Beach's Art Deco party scene.  This street is home to one of the largest concentration of historically protected Art Deco buildings in the world.  Lined with restaurants, cafes, boutiques, and nightclubs Ocean Drive also edges the crystal blue waters of the Atlantic Ocean, one of the country's most beautiful beaches.  Ocean Drive is perhaps one of the most beautiful famous streets on our list.
Worth Avenue – Palm Beach, Florida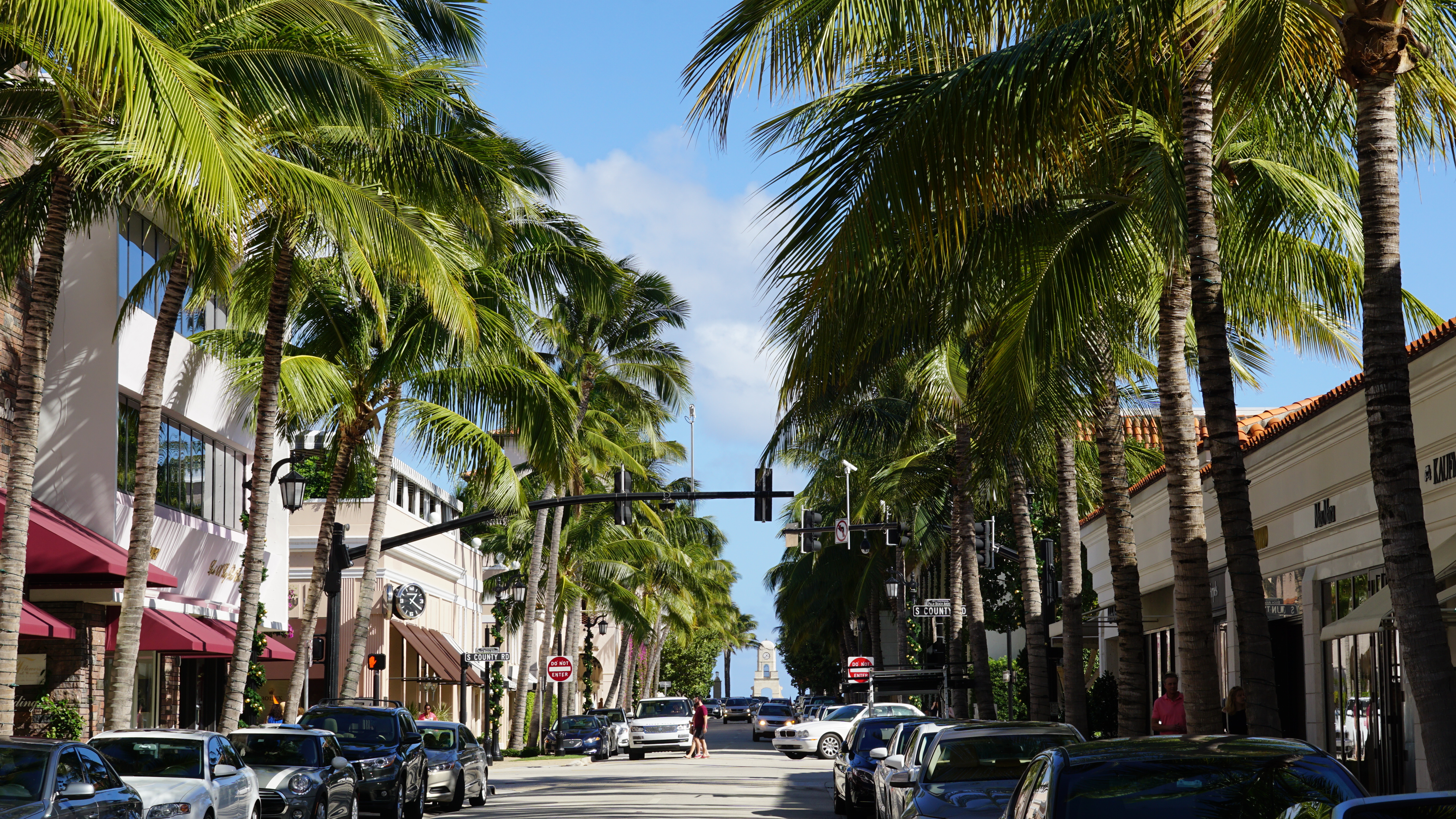 On the east coast of Florida, in the ultra-posh town of Palm Beach, is where you will find one of the country's most exclusive shopping and dining destinations.  Catering to the needs of the uber-wealthy, Worth Avenue is home to upscale designer boutiques, jewelry stores, and restaurants.  This is a street where you may run into a Fortune 500 CEO, a celebrity, or even the President when he is town.  It's not called "Worth" Avenue for nothing.
Rodeo Drive – Beverly Hills, California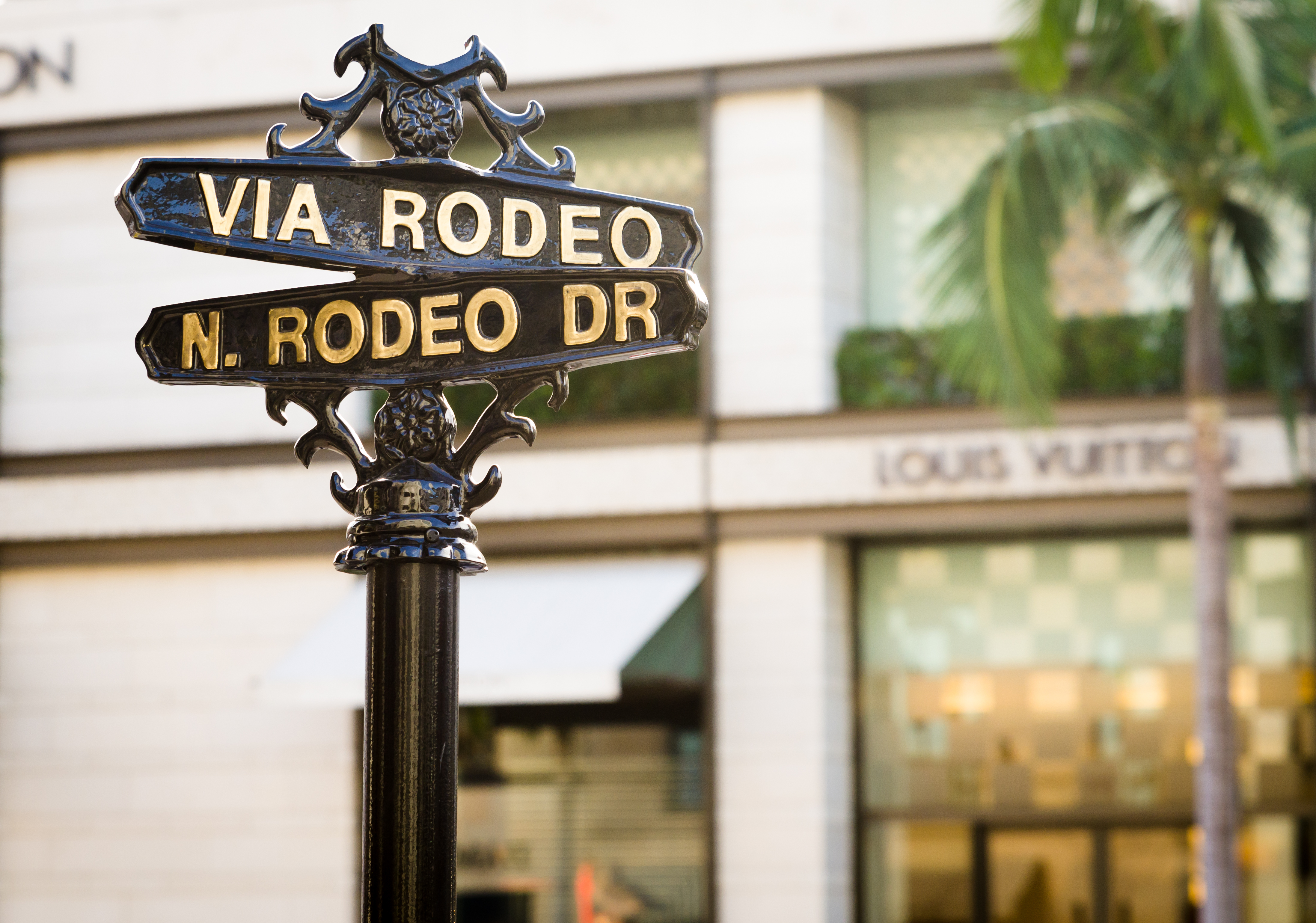 Rodeo Drive is not only famous for its swanky upscale shopping district in the heart of Beverly Hills but also for the famous actors and actresses you may spot.  This famous street has been featured in countless movies and is known worldwide for attracting the elite of Hollywood.  Wallets beware, this is not a street for bargain hunting.
Hollywood Boulevard – Hollywood, California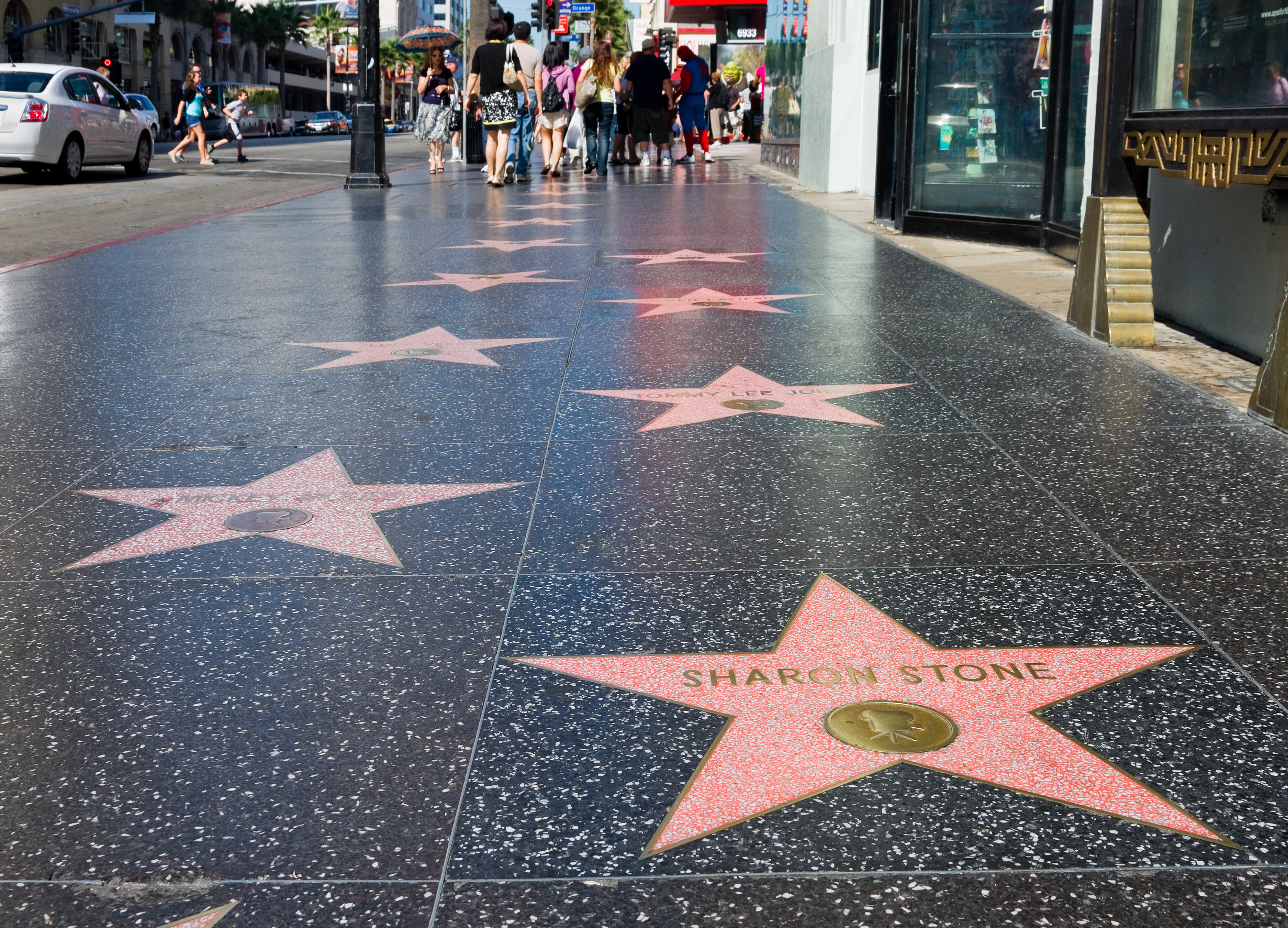 No trip to the Los Angeles area would be complete without a walk down the iconic Hollywood Boulevard.  Here you will find famous landmarks such as the Hollywood Walk of Fame with an opportunity to find your favorite actor's "star",  the Grauman's Chinese Theatre, gawk at Hollywood impersonators and do a bit of shopping.  There's a reason why this street is one of LA's most touristy spots.
Sunset Boulevard – Los Angeles, California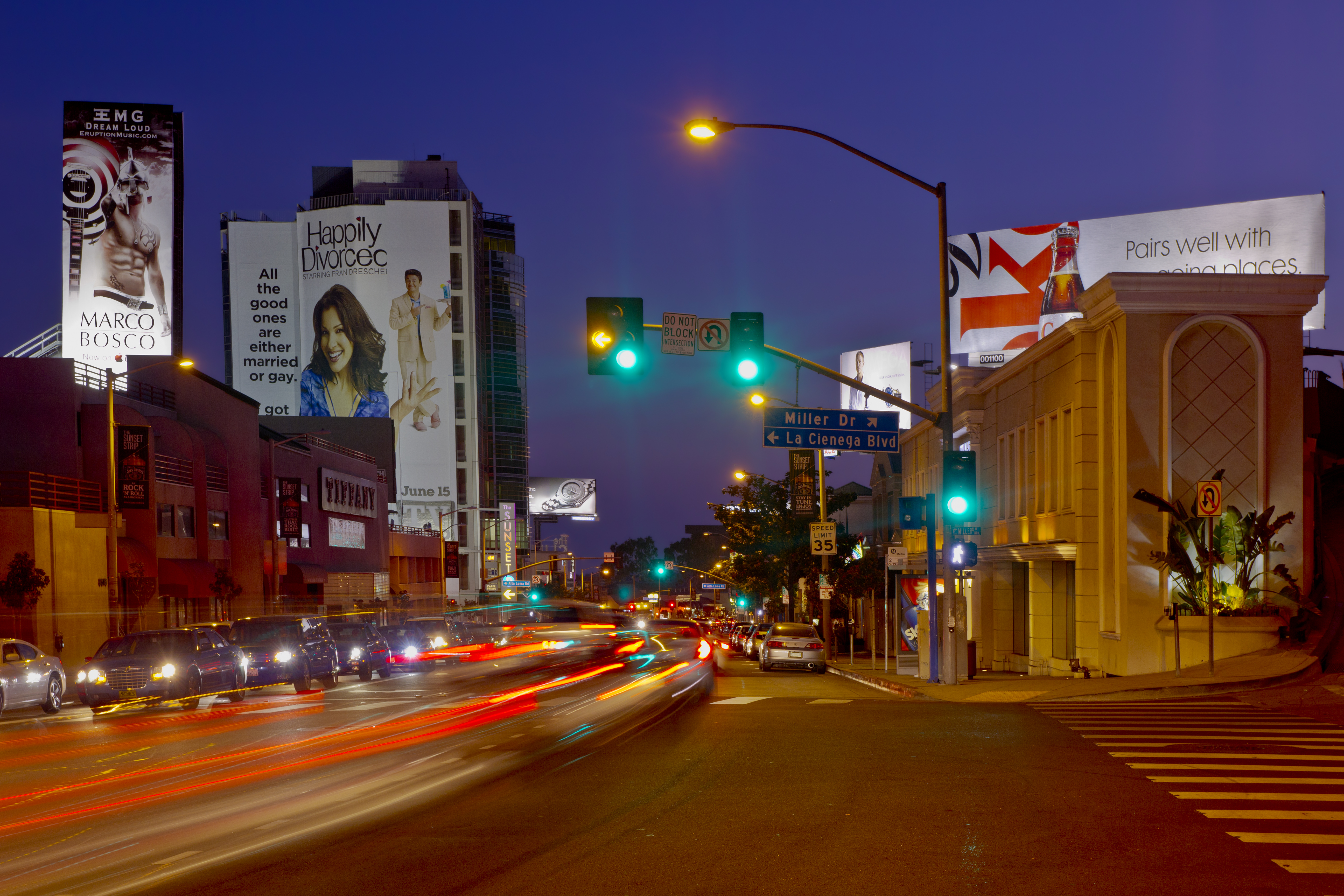 Sunset Boulevard, with its most famous mile and a half portion known as "The Sunset Strip", has been attracting visitors since the 1950's due to its famous billboards and vibrant nightlife.  This is a people watching and celebrity spotting mecca for entertainment lovers.  Sunset Boulevard is also known for its guitar stores, numerous recording studios, and live musical performances at some of the country's most iconic clubs.  Famous landmarks to see include Whiskey a Go Go, the Viper Room, The Roxy, the Comedy Store, Chateau Marmont, and the Beverly Hills Hotel.
Lombard Street – San Francisco, California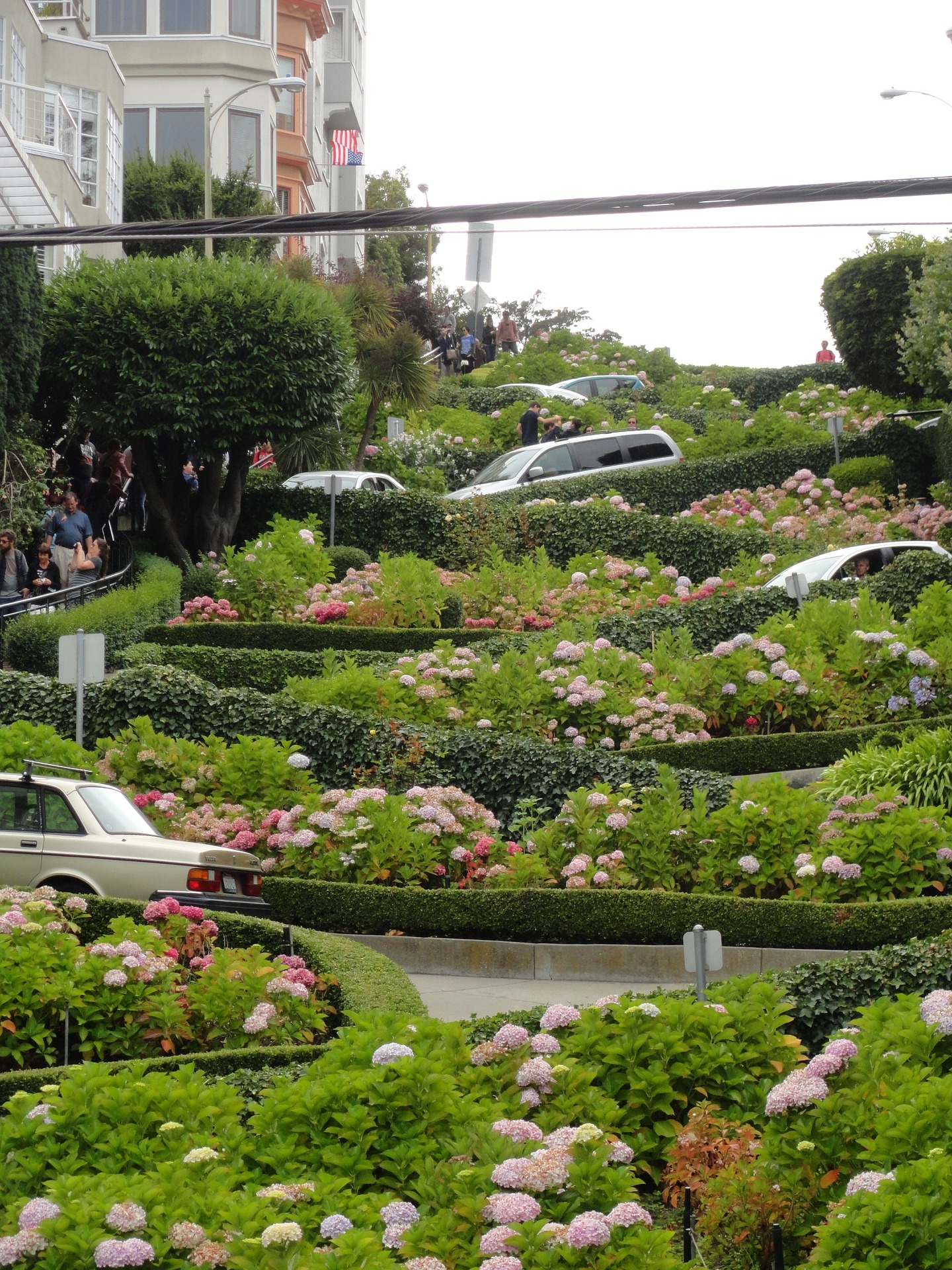 Lombard Street is one of San Francisco's most famous and unique streets.  It is also one of the country's most crooked streets.  Originally it was built as a straight steep road but was later reconstructed in the 1920's when residents wanting cars realized the hilly road was too steep for vehicles.  Today, thousands of visitors a day flock to this one-way down, crooked road nestled between Hyde and Leavenworth to witness the caravan of cars descending down this picturesque quirky street.
Beale Street – Memphis, Tennessee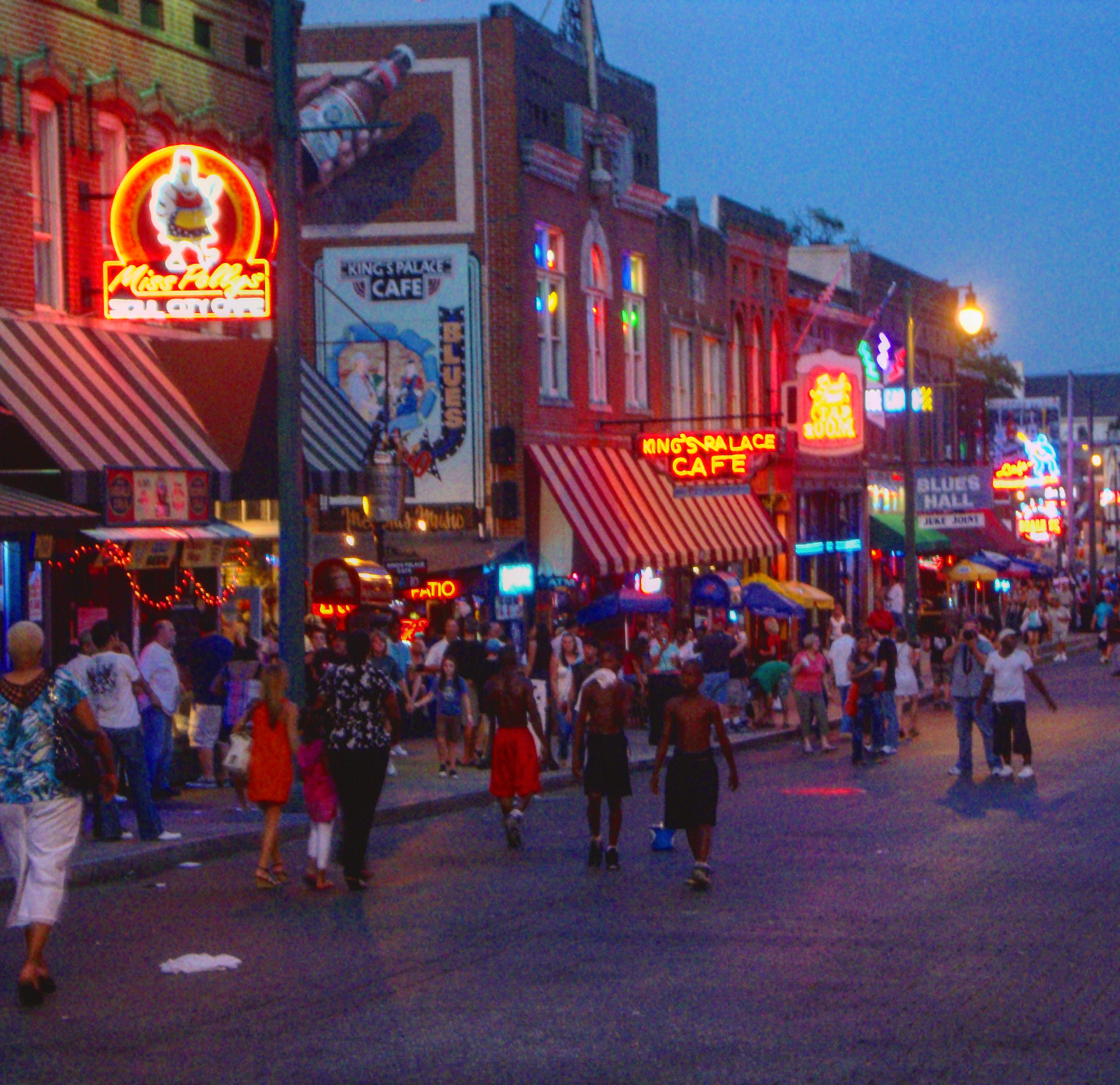 In the heart of downtown Memphis is where you will find one of the city's most lively party streets.  From mouthwatering barbeque restaurants to live music at the numerous bars, Beale Street's "Blues" vibe is a definite must-see urban party street.
Bourbon Street – New Orleans, Louisiana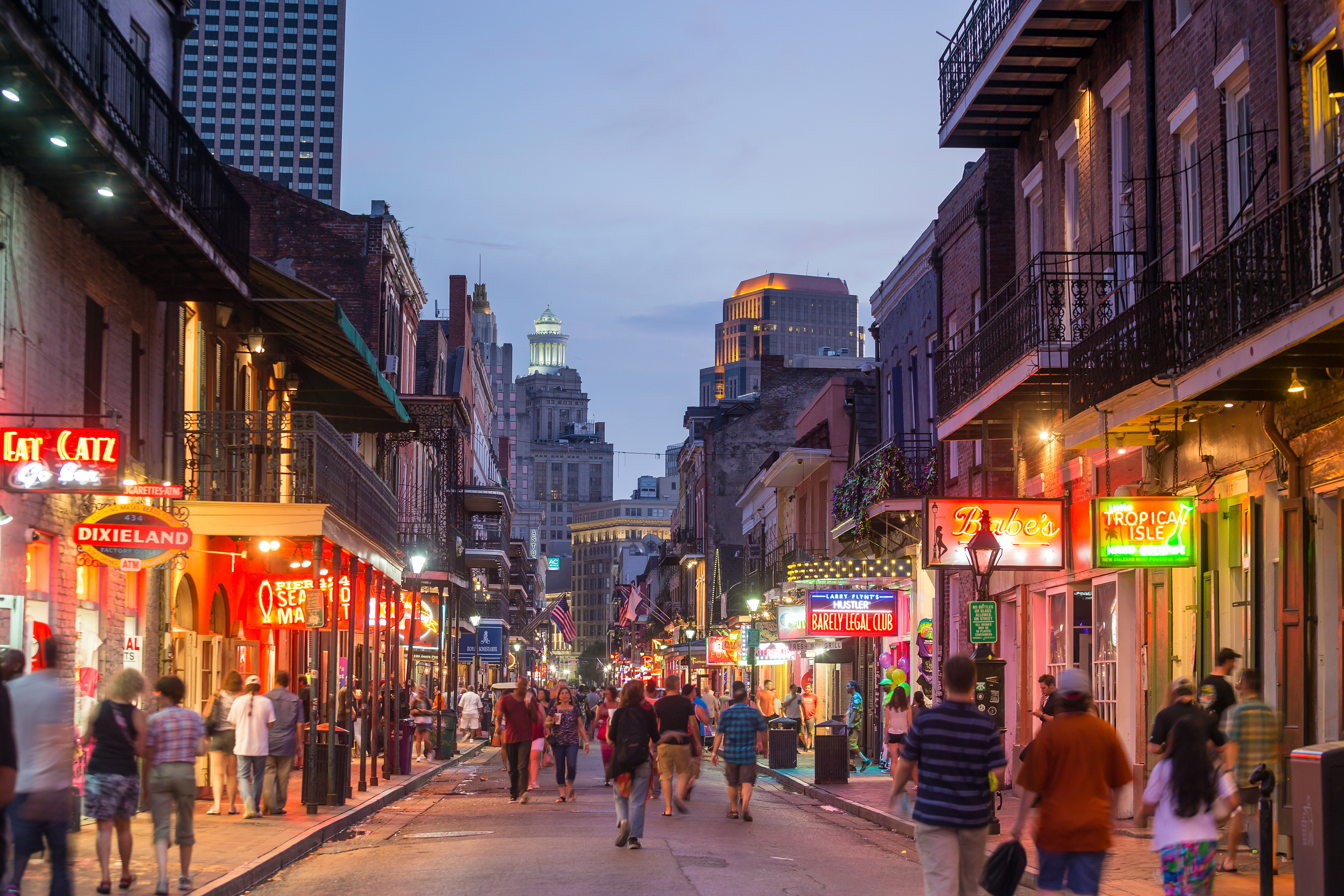 When you think of U.S. party places, Bourbon Street is in a category all of its own.  Neon signs light up the night and jazz music fills the air as the high energy party crowd make Bourbon Street one of the most visited streets in the United States.  Made famous for its world-renowned Mardi Gras celebration, this street sits right in the heart of the historic French Quarter where it is cajun style party every day of the year.
Broadway Street – Nashville, Tennessee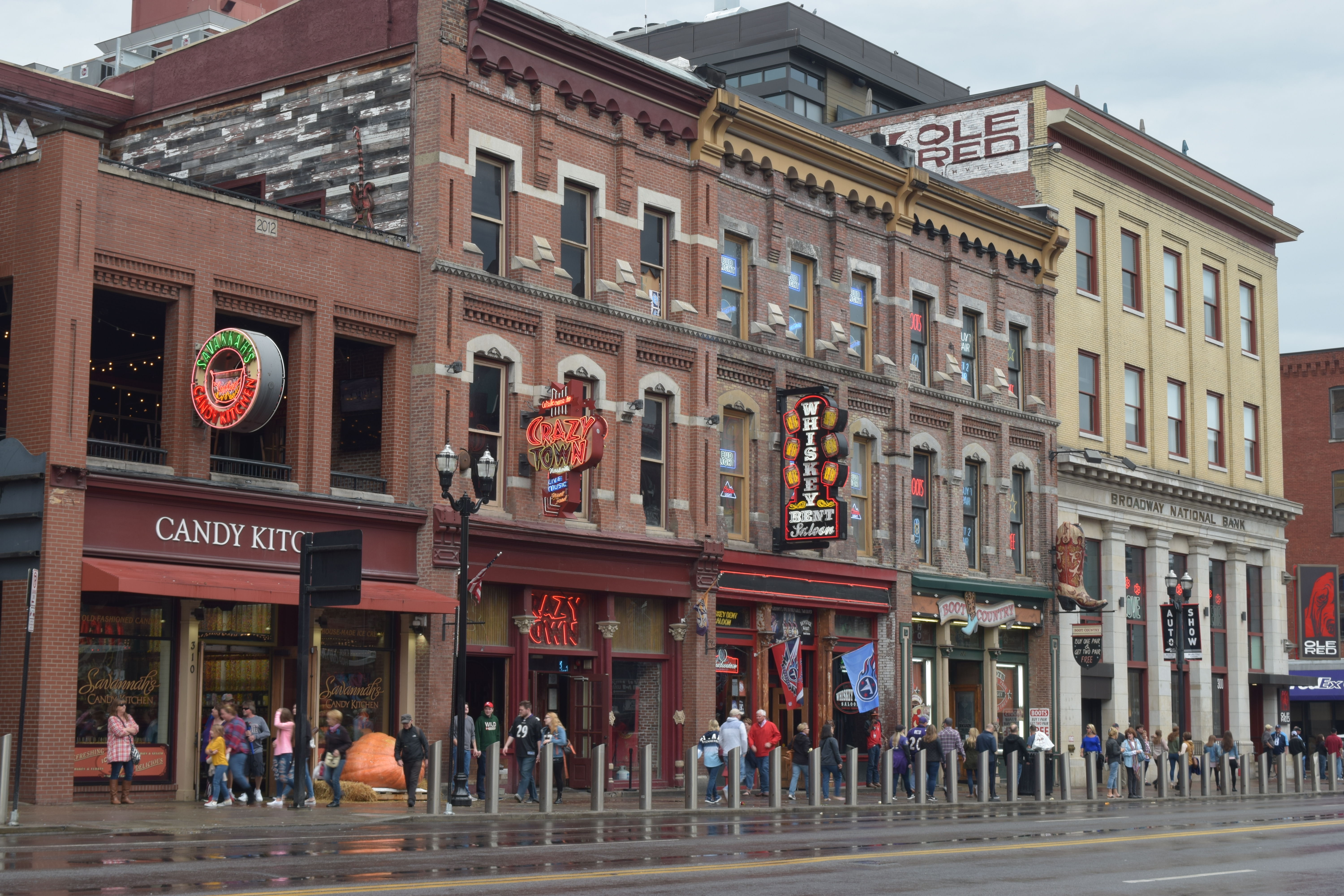 Nashville, TN is called "Music City" and Broadway Street is one of the many reasons why.  Attracting country music fans from all across the country, as well as those looking for a fun time, Broadway Street has become the mecca of the All-American Honky Tonk music party scene.  Yes, it's crowded and yes, it's loud, but that's what you get with the fun of bar hopping and exploring the live music of Honky Tonk Row.
Michigan Avenue – Chicago, Illinois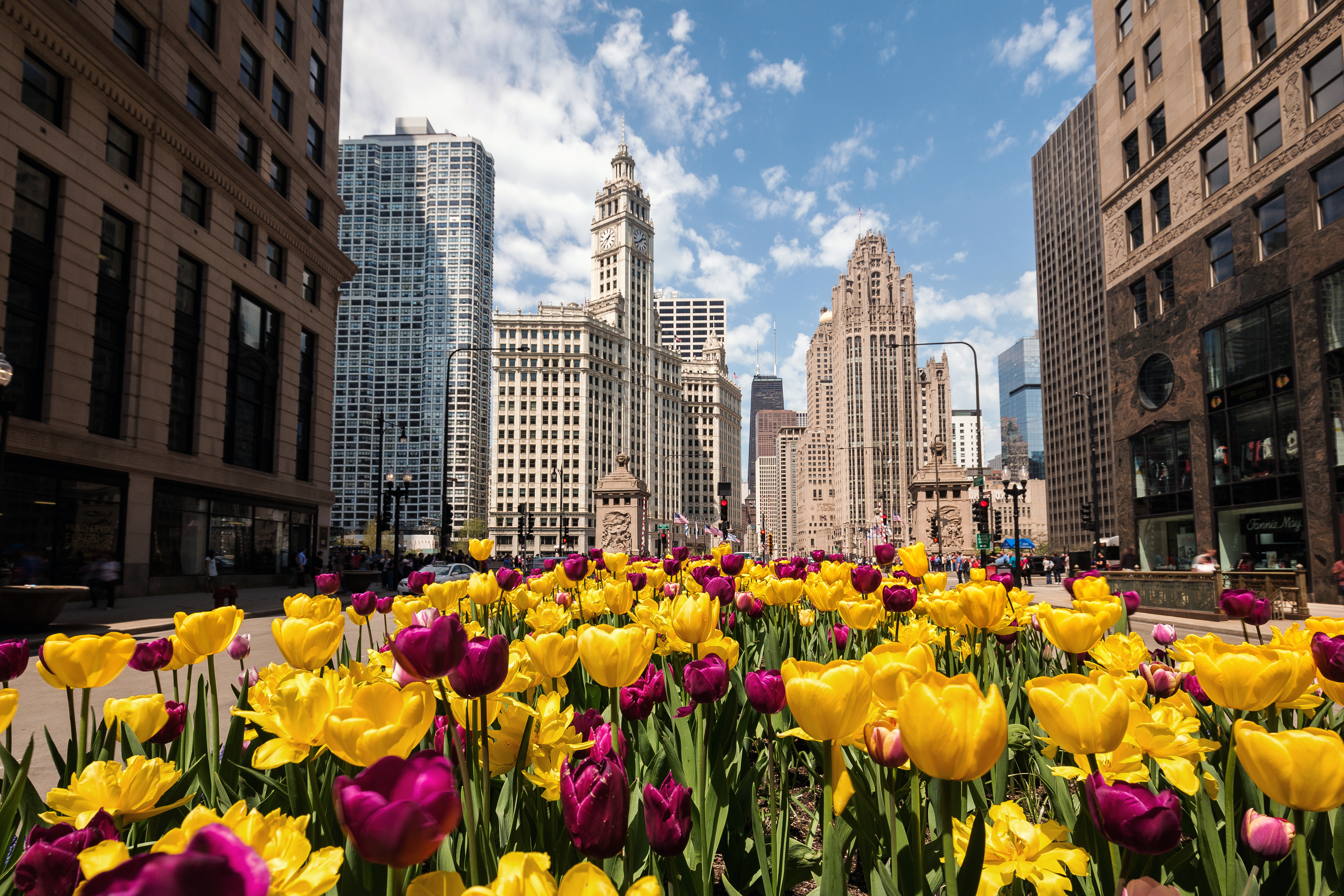 Michigan Avenue in Chicago, aptly nicknamed "The Magnificent Mile", is home to some of Chicago's most iconic landmarks and is a shoppers paradise.  Be sure to visit the famous Chicago Water Tower, the Tribune Tower, and the Wrigley Building.  This famous street is also home to two gorgeous green spaces, Millennium Park and Grant Park.
Fifth Avenue – New York, New York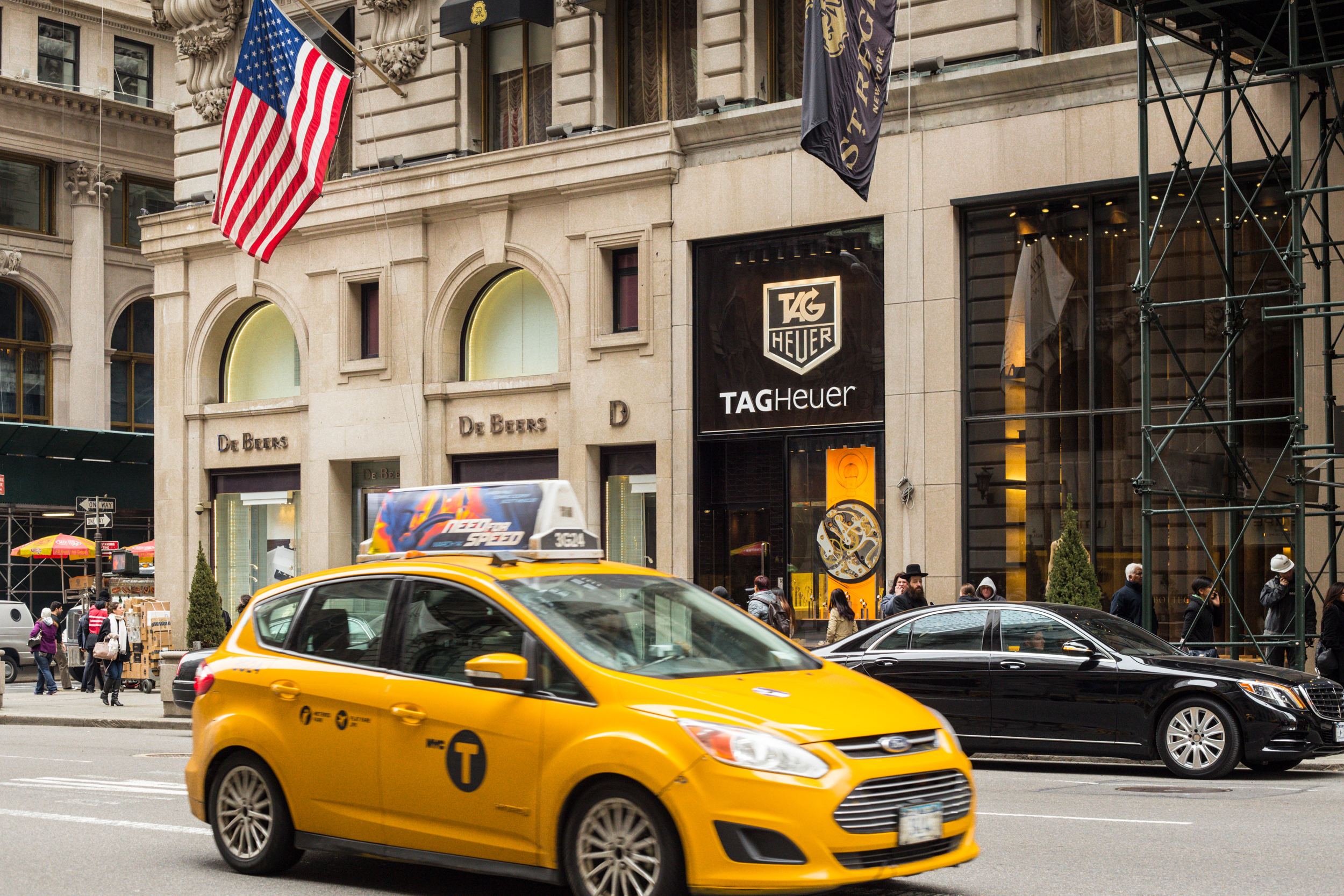 Spanning the distance between Greenwich Village and Harlem is where you will find New York's Fifth Avenue, one of the world's most expensive streets due to the extremely high rent of its retail and office spaces.   This street is also home to some of New York's most famous landmarks and mega posh retailers.  A walk along this famed street and you will see the sights of the Empire State Building, the Flatiron Building, the New York Public Library, and of course the famous Saks Fifth Avenue among other high end designer boutiques.
Wall Street – New York, New York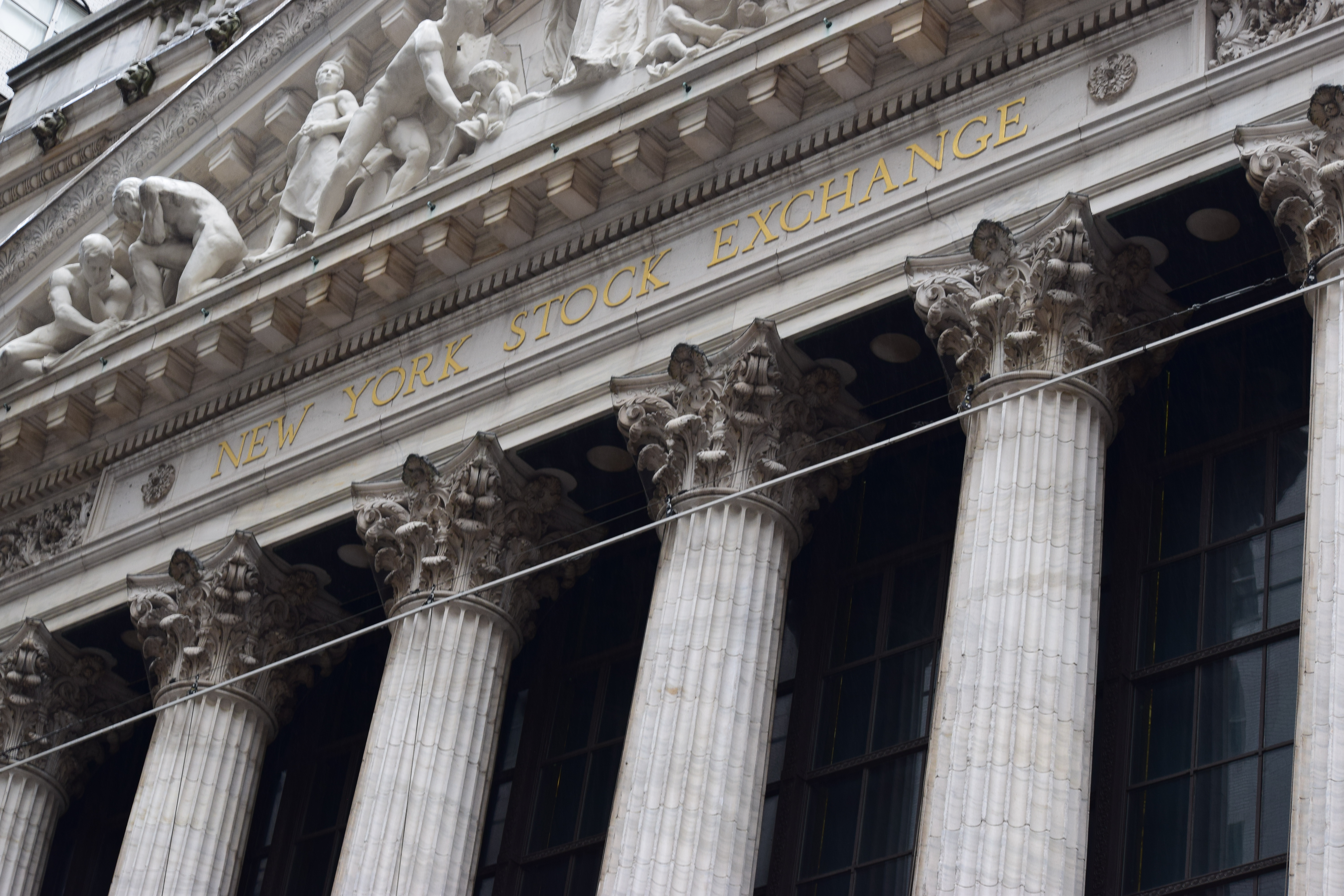 Once a humble small Dutch outpost, Wall Street is now an 8-block long street that is the heartbeat of U.S. financial institutions as well as the center of New York's Financial District.  Historic sights to see are the Charging Bull statue, Trinity Church, the New York Stock Exchange, and Federal Hall.
Pennsylvania Avenue – Washington, DC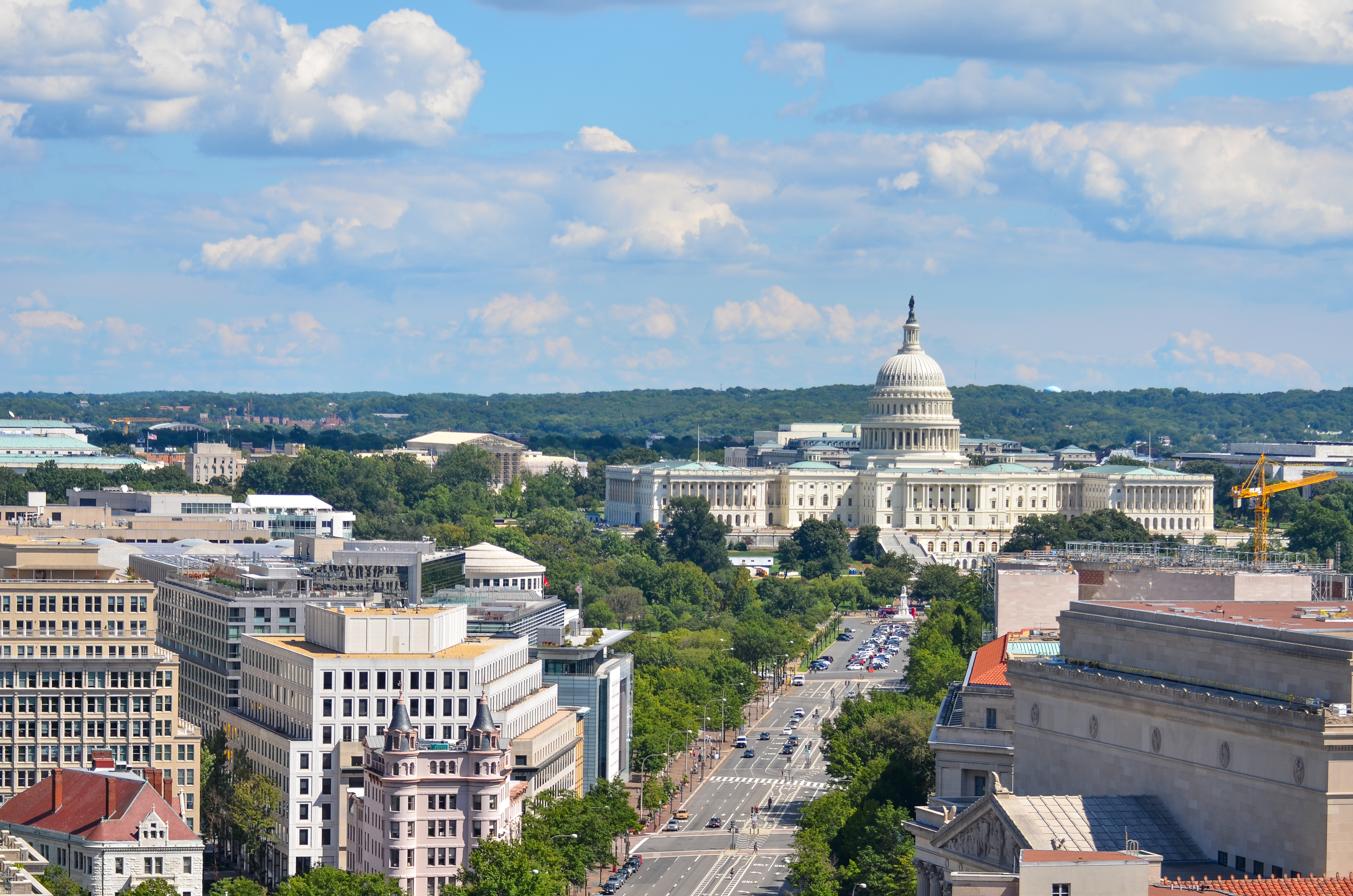 Often referred to as "America's Main Street", Pennsylvania Avenue is the corridor of American political power.  This famous street connects the White House to the Capitol building and has been the site of numerous historic events, state funerals, protests, marches, and celebratory parades.  Famous landmarks located on Pennsylvania Avenue include the Herbert C. Hoover Building, the National Archives, the headquarters of the FBI, National Gallery of Art, Freedom Plaza, and the U.S. Navy Memorial.
How many of these American famous streets have you been too?  Leave a comment below and share this article with your friends to see how many they have been to.
Be sure to follow us on social media by clicking on the icons located under the "Follow Us" banner, and share the love by "Liking", "Tweeting", and "Pinning" this article.