Gearing Up for Summer 2016
Summer is almost upon us which means planning summer vacations and long days spent at the beach, swimming in crystal clear waters and digging your toes in the sand.
It also means making lists of everything you need to bring (and for some of us, we quite literally want to pack our entire house) and hours pulling out and inspecting last year's gear.
That's when it hits.  Standing there examining the pile of stuff strewn at your feet, the questions start forming:  "Has anything actually survived from last year?", "Are there any new products that will make my beach days more enjoyable?", "Has my gear suddenly gone through a time machine?" It's enough to drive anyone crazy.
Whether you are looking to replace, upgrade or purchase a few new pieces of beach gear, our list of the Top 10 Cool Beach Products for Summer 2016 will help you to find the perfect items for your summer trips to the beach.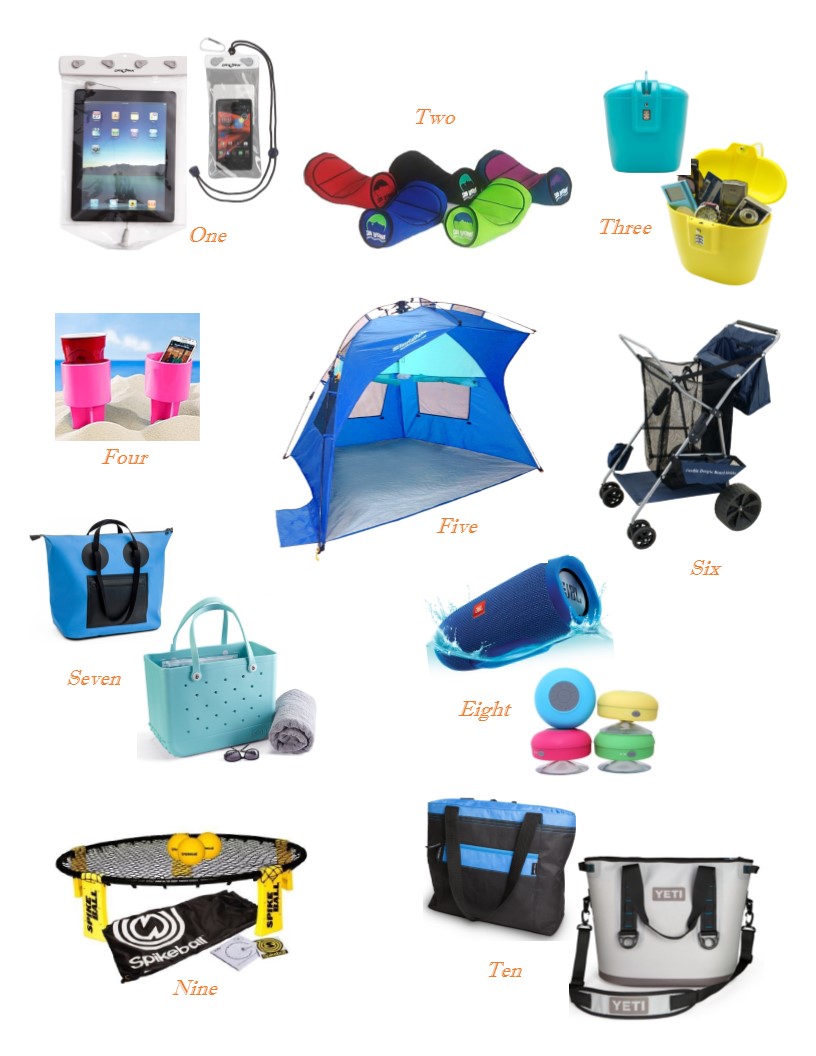 ONE   Water Proof eReader/Mini Tablet and Smart Phone Cases:
We love these because they actually work and they are affordable. Our intern field tested the Smart Phone Case — dropping it to the bottom of a pool — and gave it raving reviews.  The cases are clear so you can view and operate your devices without getting them wet or sandy.  Each size comes with built in earphone jacks to enjoy your tunes in any wet environment.  Available from several on-line retailers including, www.airhead.com or at Artsy Abode Stores in Northern Florida.
TWO  Sun Dreamer Pillow
No more trying to build mounds of sand under your beach towel to get comfortable.  These light weight neoprene pillows come unfilled for easy portability.  Once you arrive at the beach, simply fill with sand, zip and you have an instant pillow.  Available from 4thebeach.com

THREE  Vacation Vault Beach Security System
This sturdy portable safe is perfect for storing your valuables when you are at the beach or a resort.  Simply attach the locking cord around a chair, umbrella stand or other stationary fixture.  Features a combination lock and waterproof storage area to protect your most valuable items.  Available from Beachstore.com
FOUR  Sand Spiker Drink Holders
These handy accessories hold more than your drink.  Simply wedge the spiked bottom into the sand and no more spilled drinks or sandy covered bottles.  Available in multiple colors from Bulbhead.com 
FIVE  Easy Go Shelter  
We love this sun shelter for its portability and easy set up. Simply pull the cord and it pops open.  Large enough to fit two beach chairs comfortably.  Comes with sand spikes and sand pockets to keep it in place. Windows open and close for ventilation. Available from Amazon.com
SIX  Rio Deluxe Ultra Wonder Wheeler  
With all the stuff you want to bring to the beach, who wants to juggle and drag everything.  This beach caddy is the ultimate beach accessory.  It will hold up to 6 beach chairs, a cooler, beach toys, tote bag, umbrella and more. Comes with a large storage bin and removable insulated tote.  Available from several on-line retailers including BedBathandBeyond.com
SEVEN  The Baggu Tote and Bogg Bag 
You can't have too many bags, so we narrowed it down to two.  We love both bags for their durability and easy to clean material. Both totes can be hosed off after a long and sandy day at the beach. The Baggu All-Weather Beach Tote from Islandbeachgear.com may be on the pricier side, but its durable construction makes it worth the money. Originally designed by surfers to tote wet gear without leaking, this tote will keep all of your items waterproof.  It has a zip top and side compartments for extra storage.  Our second choice is a more affordable tote.  The Bogg Bag Tote from Boggbag.com is a durable waterproof bag that has a traditional open top bucket design and can be customized. This bag is virtually indestructible.

EIGHT   Waterproof Bluetooth Speakers 
What's a day at the beach without some great tunes?  Once again we have a tie for our favorite portable waterproof speakers.  JLB offers a mid-ranged priced speaker that packs in the sound.  This speaker comes in multiple colors and is the perfect size to fit into and beach tote or backpack.  Available at many major retailers including Walmart.com. Lightinthebox.com, carries our favorite Mini Ultra Portable Waterproof Stereo Wireless Bluetooth Speakers.  These mini speakers are light weight, versatile and a value at $5.95 each. 

NINE  Spikeball
As seen on Shark Tank, Spikeball has become one of summer's hottest new games. Bring it to the beach for hours of fun. Available from major retailers including Amazon.com
TEN  Yeti Hopper Cooler and Freddie & Sebbie Cooler 
Both the Yeti and Freddie & Sebbie Coolers round out our list of top 10  summer beach products.  The Yeti Hopper, with a price tag of $349 makes it one our our luxury products and a "forever" cooler.  The durable construction and high quality materials literally keeps ice unmelted for 3 days (as tested by one of our interns). For a complete line of Yeti Products, visit Yeticoolers.com.   For a more reasonably priced soft-sided cooler, we love the Freddie & Sebbie large insulated cooler/tote.  This cooler will keep items cold and/or hot depending on your needs. Available from Amazon.com.
In case you were wondering, the above featured products were picked by Life Traveled In Stilettos as our top choices for products we would personally use.  Reviews are not solicited.  If we like or love a product, we will simply share it with our readers. If we don't, you'll never learn about them from us.